Gareth Bale struck a brilliant brace as Tottenham defeated West Ham 3-2 at Upton Park to move up to third in the Premier League.
In one of the games of the season, Bale struck a swerving 25-yard winner in the 90th minute as Spurs came back from 2-1 down and usurped Chelsea in the table.
The world-class Welshman was the star of the show, but the teams' goalkeepers, Scott Parker and Sam Allardyce's tactics are the other talking points from the game...
VILLAS-BOAS DESERVES CREDIT FOR BALE'S BRILLIANCE
With his theatrics, cringing celebrations and Cristiano Ronaldo wannabe attitude, it can occasionally be hard to dislike Gareth Bale. But unless you are a West Ham or Arsenal fan, on Monday night it was impossible not to be in awe of one of the best match-winners on the continent.
His winning strike was exceptional not just for the hit, but because seconds earlier he had been fouled yet got up, demanded the ball, received it and smashed in a world-class winner. Yesteryear, Tottenham would have lost to West Ham but now boast one of the top 10 players in world football. Just last month it was suggested Bale should concentrate more on getting chalk on his boots and offering Spurs width, but in that time something has clicked and he has become an expert attacker left, right and centre. He played on the left wing for Spurs on his debut under Martin Jol in August 2007 and it was patent then that it was his best position. Now under the guidance of André Villas-Boas, he has been granted license to drift so that he is vexing opponents other than the right-back (two West Ham players were yellow-carded for committing fouls on him), and the anxiety is palpable. Spurs' paucity of options up front has made it a happy accident, but it could be pivotal in Bale's ascension into a genuine footballing great.
ALLARDYCE INVITED SPURS ONSLAUGHT
For all Tottenham's attacking vibrancy their defence looked tentative up against Andy Carroll and were bamboozled by Joe Cole's craft. After the second goal Sam Allardyce withdrew Guy Demel for Emanuel Pogatetz in a straight swap, but the team also withdrew and invited pressure. Tottenham were creating chances aplenty prior to Cole's goal against the run of play and the deeper they got the likelier Spurs looked like breaching Jaaskelainen's resistance.
Allardyce hailed it as "one of our best performances of the season" but it was merely a dogged and glorious failure when had they been more positive while ahead they might have earned a point, at least. Found out at Euro 2012, Parker's mobility has exacerbated due to a lengthy injury and the headless chicken act at the Boleyn Ground should have prompted laughs, rather than boos, from the home supporters after his overzealous tackle gifted Andy Carroll a penalty. Jan Verthongen is a long-term centre-back for Tottenham but in the interim, it may be worth partnering him with compatriot Dembélé for a steadier midfield duo.
LLORIS GOALKEEPER OF THE SEASON
Repeatedly it has been stressed how this Premier League campaign has been a poor one for goalkeepers, so it was a rare treat to see two custodians in good form on Monday night. For the visitors, Hugo Lloris made perhaps the most critical save of Tottenham's season when he thwarted Matthew Taylor with West Ham 2-1 ahead.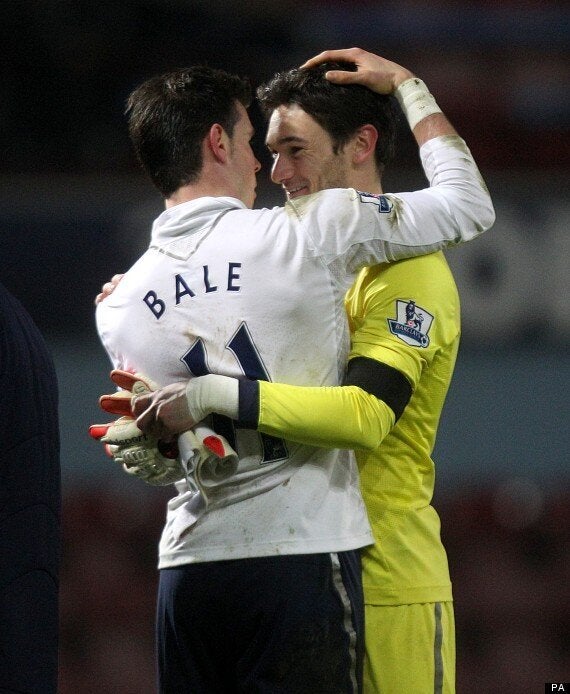 Lloris made a vital save with Tottenham 2-1 down
More than just theageneric one-on-one save, Lloris exhibited astounding rapidity to close down Taylor before extending his limbs like Stretch Armstrong to repel the attempted lob - which ultimately hit his face. He is improving on a weekly basis and at £11.8m is exceptional value for one of Europe's top five keepers.
JAASKELAINEN ROLLS BACK THE YEARS
Jussi Jaaskelainen did deserve to be on the losing team because his teammates were inferior than Tottenham, however he can feel aggrieved to have conceded three goals after a display which belied his performances for Bolton and West Ham in the last five years. Jaaskelainen denied Steven Caulker three times
The trend for most goalkeepers in their 30s has been to improve, yet Jaaskelainen, once one of the most consistent Premier League goalkeepers, has endured a lengthy slump. Against Spurs it took a scrappy Gylfi Sigurdsson goal to break a 63-minute resistance when he seemed impregnable. One swallow does not a summer make and he turns 38 in April, but despite the result, Monday night could be the start of an Indian summer for the Finn.
Related