'Downton Abbey' is reportedly set to cast its first black character as part of a storyline about race relations, and he's going to be a looker...
According to the newspaper, casting notes were sent out earlier this month describing Jack as "Male, 25-30. A musician (singer) at an exclusive club in the 20s. He's black and very handsome. A real man (not a boy) with charm and charisma."
The notes add that the "very attractive" character will have "a certain wow factor".
One actor who will be pleased to hear this news is Nathaniel Martello-White, who, despite graduating from one of the most highly regarded drama schools in the country - The Royal Academy of Dramatic Art (Rada) - has found acting a tough profession as a young black male.
Well now there might be, and I've racked my brains for other 25-30 year old black actors (who can also sing) who could play the part... 90210's Tristan Wilds looks good in a suit
Various American actors have the skills, for example 'Scrubs' Donald Faison, rapper Donald Glover, 'Rent' musical star Taye Diggs or '90210's' Tristan Wilds. But could they master show writer Julian Fellowes' required crisp accents if musician Jack Ross turns out to be British?
In the UK, Britain's most famous black TV actors - 'Homeland's' David Harewood and 'Luther's' Idris Elba - are unfortunatly too old for this 'Downton' role.
Handsome 33-year-old David Gyasi, who last year scooped his first major film role in 'Cloud Atlas', could be a good choice, as could Laurence Olivier Award-winning 'Othello' actor Chiwetel Ejiofor. And there's 35-year-old 'Submarine' writer and 'IT Crowd' star Richard Ayoade, but he's probably too indie for the ITV favourite. David Gyasi was born in Hammersmith, London
Then, there's the youthful 36 year old 'Spooks' actor David Oyelowo, but he decided to quit Britain for Los Angeles in 2008 and hasn't looked back since.
Now firmly in with Hollywood, Oyelowo has appeared in box office hits 'Rise of the Planet of the Apes', 'The Help', plus George Lucas' 'Red Tails' and Lee Daniels' 'The Paperboy' and ended 2012 with a sterling performance in Steven Spielberg's 'Lincoln' and 'Jack Reacher', starring Tom Cruise. David Oyelowo has had great success in Hollywood
Which leaves me with just JLS star Marvin Humes on my mind. The casting notes require "he's black and very handsome. A real man (not a boy) with charm and charisma". Humes can sing well enough for a TV show, but can he act? Let us know, eh, Marvin? Marvin Humes (left) with his JLS bandmates Oritse Williams, Jonathan 'JB' Gill and Aston Merrygold
Of course, Fellowes is not averse to casing a complete unknown in his Golden Globe Award-winning show, so perhaps a new acting talent will be brought to our screens.
Other new characters are said to include Lord Anthony Gillingham, a new love interest for recently widowed Lady Mary Crawley, and party-loving Sir John Bullock. Filming on the new series is due to begin next month.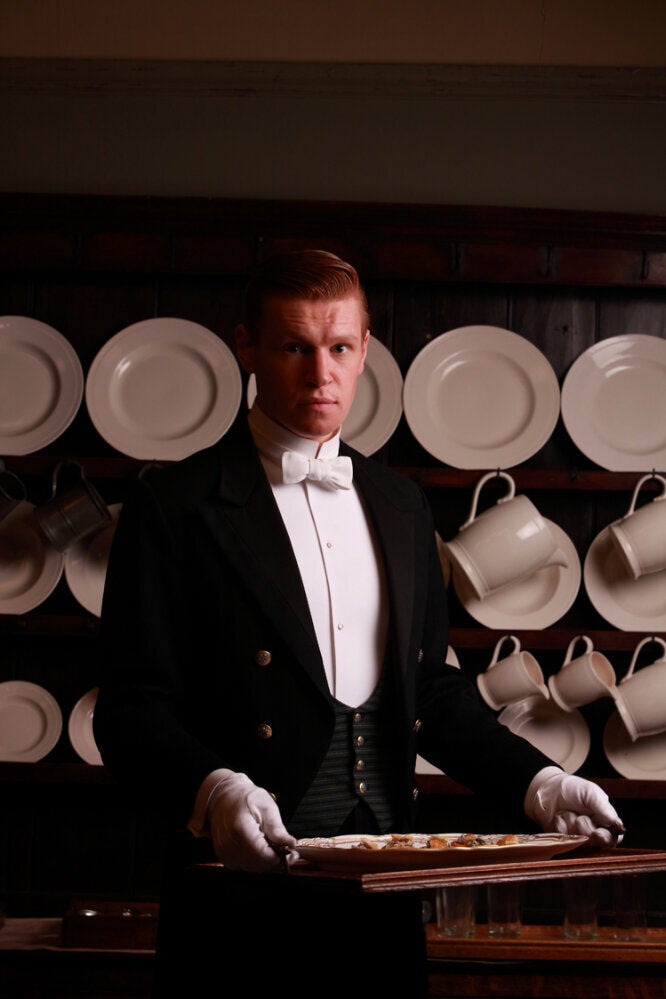 'Downton Abbey' Season 3
Related