A Harvey Nichols campaign showing women about to kiss their mirror image has escaped censure after drawing complaints that it was sexually explicit and offensive on religious grounds.
Three posters promoting the new beauty section at the department store's Liverpool branch used the images alongside text reading: "Love Thyself."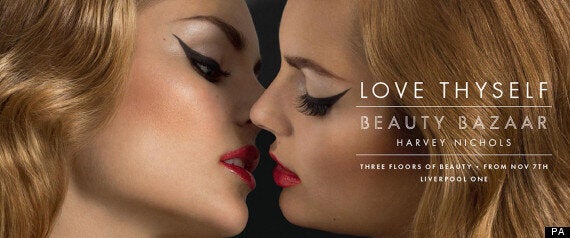 The Advertising Standards Authority (ASA) received 17 complaints, nine that the images were unsuitable to be seen by children because they appeared to show a lesbian kiss, 10 that they were sexually explicit and two that the phrase "love thyself" in combination with the pictures was offensive on religious grounds.
Harvey Nichols pointed out that the ads did not depict a lesbian kiss but rather a woman kissing herself, which was also made clear by the text.
But the retailer disagreed that a lesbian kiss might be deemed offensive, irresponsible and unsuitable for children, arguing that "the advertising industry should be in the vanguard of those promoting and supporting the equalities espoused by anti-discrimination laws, including those concerning sexual orientation".
It added that it did not believe that an image of the same person, or of two people, on the brink of kissing could be regarded as sexually explicit and therefore capable of causing widespread offence.
Scroll down for more controversial adverts
The ASA found that the campaign was sufficiently clear and unlikely to be widely misunderstood, but noted that a reference to homosexuality in an ad would be unlikely in itself to cause widespread or serious offence or constitute irresponsible advertising.
It said: "Because we considered that it was sufficiently clear that the posters showed one woman about to kiss her mirror image, and because we also considered that they were unlikely to cause serious or widespread offence even if interpreted differently, we concluded that the ads were not offensive, irresponsible or unsuitable for untargeted display because they appeared to portray a lesbian kiss."
It added: "We noted that the words 'love thyself' bore some similarity to the Bible verse 'Thou shalt love thy neighbour as thyself' and understood that, if that association was made, the ads could be seen to distort a religious message for commercial means.
"However, in our view the text was not so strongly linked to the most central tenets of the Christian faith as to be widely interpreted as mocking the sacred elements of that religion. We also noted that 'love thyself' was not a direct biblical quote, and for that reason considered that it was not exclusively associated with Christianity.
"Given the absence of any other imagery or references which could carry religious meaning in the ads, we concluded that, in the context of an ad promoting a store's beauty department, the phrase 'love thyself', combined with the images of a woman about to kiss her mirror image, was not offensive on religious grounds."