David Beckham started his first Paris St Germain match in the Coupe de France on Wednesday night, and again the Ligue 1 leaders defeated Marseille 2-0.
Having made his debut in a 15-minute cameo off the bench in Sunday's win over the same opposition, Beckham was handed his first start by coach Carlo Ancelotti in the last-16 tie.
And the Italian was rewarded, Beckham impressing in a deep-lying midfield role as PSG eased through to a quarter-final clash with Evian thanks to two goals from Zlatan Ibrahimovic. Beckham made his first PSG start on Wednesday night
"Beckham played very well, as he usually does," said Ancelotti in L'Equipe.
"His passing was good, as was his positioning, and he complemented (Blaise) Matuidi well in midfield. He showed he can play."
Beckham was pleased to have repaid Ancelotti's faith in him.
"I was just very happy to play tonight and to help set up goals for others," he said.
"I had a slight hand in the second goal on Sunday and again here so I'm happy.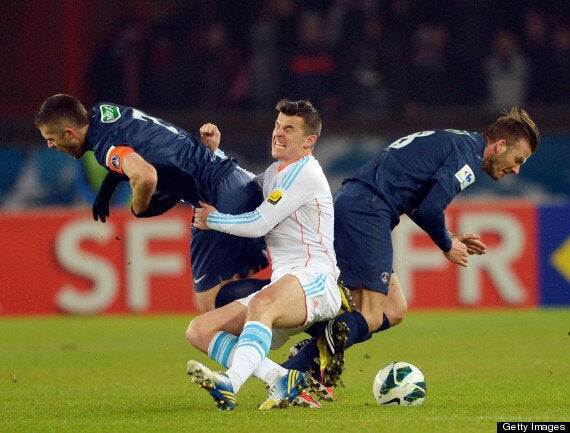 David Beckham on the receiving end of a Joey Barton tackle
"I came here knowing that I wouldn't be in the team from the word go. We have a good team and I want to add something to it. If that means starting then great, and if it means being on the bench then great."
Beckham is expected to play a part in PSG's Champions League clash with Valencia next week - his first appearance in Europe's premier club competition since leaving Real Madrid in 2007 - and he is excited at the prospect.