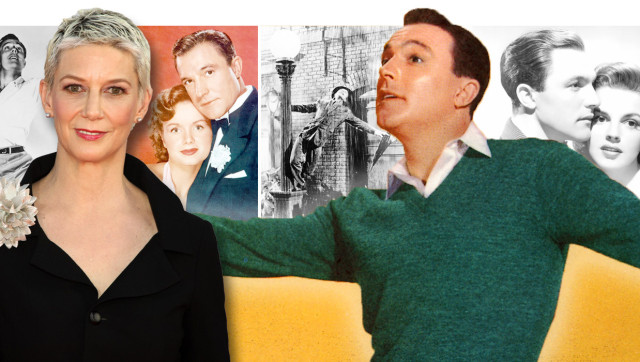 Getty/PA/Rex
Grab your umbrella and wellies - there's rain forecast at the Royal Albert Hall.
The romantic Hollywood of a bygone age is coming to London as the historic venue marks the 60th anniversary of musical classic Singin' in the Rain (1952) on 8 and 9 March with a screening of the film, accompanied by the Royal Philharmonic Concert Orchestra performing in sync with the soundtrack.
Singin' in the Rain: Live in Concert will be introduced by Patricia Ward Kelly, wife of the late Singin' in the Rain star Gene Kelly.
Kelly's prolific career shaped American film, including performances in Cover Girl (1944), An American in Paris (1951) and starring roles alongside Judy Garland in For Me and My Gal (1942), Fred Astaire in Ziegfeld Follies (1945) and Frank Sinatra in On the Town (1949).
Ranking number one on the American Film Institute's 100 Years of Musicals list, it was Kelly's directing and performance in Singin' in the Rain that defined the notion of the Hollywood musical.
HuffPost UK caught up with writer Patricia Ward Kelly to find out about the remarkable life of legendary dancer, director and choreographer Gene Kelly. From the myths surrounding the famous rain scene, to Gene's love of filmmaking - read our interview:
How do you think Singin' in the Rain is going to look in the Royal Albert Hall?

I think it's a perfect match; you could not come up with a better venue. Singin' in the Rain warrants the big screen and a sense of community, a sharing of the experience with people of all ages.

The film is going to look extraordinary, with an amazing orchestra. Conductor John Wilson has meticulously re-crafted the original arrangements, which were destroyed by MGM, so it will be a full-bodied experience.

There are many anecdotes about the famous rain scene in Singin' in the Rain - are all of them true? For example, did Gene really have a cold whilst filming in the rain?

Yes, he was very sick and had a temperature of around 103 Fahrenheit. He would go outside onto the sidewalk, lie down on the hot ground and bake the fever out of him. You don't notice his illness at all in the film!

On many occasions Gene danced with sprained ankles and torn hamstrings. Dorothy Hamill once broke Gene's ribs in the middle of a scene and he couldn't stop... He was such a pro.

There is a mythology that Gene was very particular about his suits, but he would lose so much weight whenever he shot a scene and then the suits had to be taken in. It was very important for him to show the longest, leanest line of his body, it was about getting as close as possible to a ballet leotard, and yet look like a guy on the street.

Another myth is that there was milk added to the water in the rain scene, so that the camera could see the raindrops - but that's not true, it was just extraordinary cinematography and lighting.

Gene Kelly was a man of many talents: he acted, danced, sang, directed and choreographed. What area of work did Gene most want to be remembered for?

Gene would want to be known as a creator. Quite often he didn't even want to be in the movies he was in. For example, the original concept of Invitation to the Dance was purely as a homage to the great dancers around the world, but MGM wanted him in front of the camera.

If there were any kind of epitaph it would be the guy who changed the look of dance on film, and who created a particularly American style of dance.

What was your impression of Gene when you met him in 1985?

I had never heard of Gene Kelly when I met him. It's a little astounding to me now, when I think I had missed an entire part of the 20th century. I think it was actually refreshing to meet him that way. I didn't see his movies until after I met him, so I didn't know the guy up on the screen. I know that the two men are very different.

I was writing a television script for him and I immediately fell in love with his use of language; it was a really wonderful blend of erudite gentleman and Pittsburgh street kid.

He had a mixture of French, Italian and Yiddish phrases and a remarkable breadth of knowledge. We had mutual loves: etymology, word origins and poetry, so we would play word games and quote poetry back and forth.

Needless to say, I was enchanted.

Throughout your marriage with Gene, did he sing and dance for you?

Gene was unlike many performers who just perform at the drop of a hat. In the privacy of our home Gene loved not to be like that, instead he would let his guard down and just relax. We would curl up next to each other on the couch with a book, do the crossword puzzles together, and watch movies together.

He did sing to me; he would remember an experience, like his first love, and it would be related to a song. We danced together, but he didn't dance in public because then the entire room wanted to dance with him. He and Fred Astaire used to stand in the corner and pretend they had a bad leg.

He was terribly romantic; to me he was the epitome of romance. He looked at everything that way.

Gene Kelly developed some pioneering film special effects during his career, would he have been interested in filming dance in 3D, if today's technology been available?

Absolutely, Gene was more interested in filmmaking than being a performer. He was way ahead of his time with the use of live action and animation in Anchors Aweigh [Gene danced with an animated Jerry the Mouse, below] and in Cover Girl with panning and double exposure [Gene danced with himself in Hollywood's first double exposure]. So I think he would be intrigued by the new technology of 3D filming.

Gene was always pushing the cinematographers and camera operators in new directions, looking for ways to capture dance and movement, to make things look different but still be true.

We've seen a rise in popularity of musical film, including Anne Hathaway's Oscar win for Les Misérables. Do you think there is a growing appetite for a revival of classic musical films?

I think there's always an appetite for musical film. Filmmakers either don't know how to make musicals or don't want to risk making them because they're so expensive.

When Gene was at MGM he was working with an extraordinary repertory company that would make several films a year. They had the greatest composers, arrangers, actors, dancers, costume makers, cinematographers - everybody was at hand. To pull that kind of talent together now is prohibitively expensive in today's Hollywood terms. Studios don't want to risk that, instead they'll make big action movies and make millions of dollars.

Gene kept waiting for the next guy to come over the hill; he was somebody who looked to the new generations. Of the people who could sing, dance and act, such as Judy Garland, Frank Sinatra and Gene Kelly, Hollywood seems to have made them and then broken the mould. Hollywood needs to cultivate that talent again.

Hugh Jackman is a lovely man, who is in many ways as close to that style of Hollywood star. He has the kind of wit, charm and graciousness that I certainly saw in Gene.

Do you think the world will be marking a 100-year anniversary of Singin' In The Rain in the year 2053?

Will I make it the 100th anniversary? I could! Gene used to always say: "I would love to come back in 100 years and see what people are watching, see what has lasted."

I don't see Singin' In The Rain diminishing because the movie's message is so universally translated: joy.
Patricia Kelly will be introducing Singin' in the Rain – Live in Concert at the Royal Albert Hall as part of the film's 60th birthday celebrations on Friday 8 and Saturday 9 March. To book tickets visit the Royal Albert Hall website or call 020 7589 8212.