Artist Sir Peter Blake is to appear on a record sleeve, after years of creating striking images for artists such as The Beatles, The Who and Oasis.
Sir Peter will feature on a new edition of Madness's most recent album, 'Oui, Oui, Si, Si, Ja, Ja, Da, Da' in a photograph which was initially ditched from the version released last year.
The 80-year-old artist is seen as Moses as he lines up with the rest of the band in fancy dress on the sleeve for the special edition of the album, which will come out in April.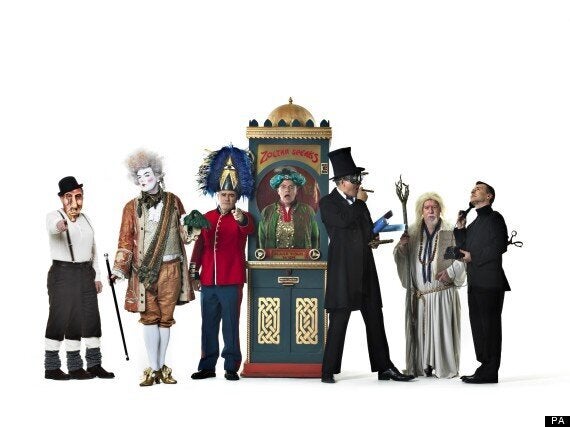 The new sleeve was released as the band was announced to play a special concert outside the BBC's Television Centre in west London as the corporation leaves the building for good.
The hour-long concert will be screened by BBC4 and will include hits such as One Step Beyond, I Never Knew Your Name, Baggy Trousers and Our House.
BBC4 controller Richard Klein said: "I can think of no better band than Madness to help celebrate a golden age of television coming out of the BBC's Television Centre, and I am really pleased that one of Britain's finest groups has agreed to come along and help BBC Four celebrate in fine style."
The station is also to screen a celebration of the programmes and stars associated with TV Centre over the past 53 years.
For the sleeve Sir Peter dressed the figures as characters associated with a number of phrases which had been in contention to be used for the album title.
The veteran artist is best-known for creating the collage cover of Sgt Pepper's Lonely Hearts Club Band sleeve for The Beatles in 1967. He has also provided images for Paul Weller's Stanley Road, Oasis's Stop The Clocks and The Who's Face Dances.
His Madness cover is thought to be the first in which he has featured himself on one of his own sleeves. It will be released on 12 April through the band's website.