This image of a sunset over Oregon's Crater Lake National Park sees snapper Dennis Frates commended as International Garden Photographer of The Year (IGPOTY) 2013.
The competition, now in its seventh year, is open to amateurs and professionals alike around the world, with no restrictions on the type of camera or techniques used.
Of his winning image, Frates said: "Penstemon only grows in a very few isolated spots around Crater Lake. Of course every year is different, but with some scouting you can find small patches like this one. Often they don't always fit into a good composition, but this location had the flowers, lake and sunrise visible together.
Scroll down for more winning entries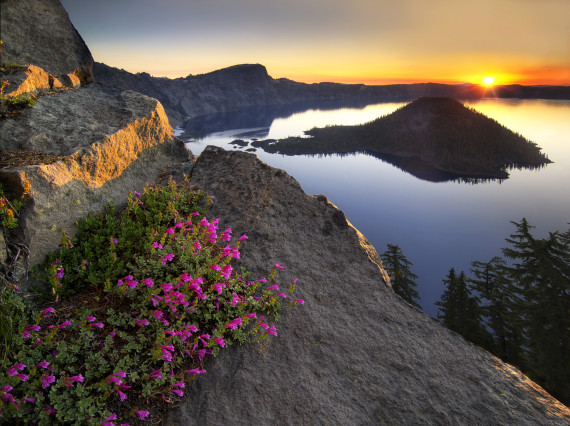 Dennis Frates's winning entry, Penstemon Sunrise
"Wind was a problem, and I had to wait a good deal of time for it to stop moving the flowers, which made me nervous, thinking I would miss the sunrise.
"I was excited to find an image that showed three aspects all together - the flowers, lake and sunrise. I spent several days in this area and scouted locations each day, so finding this particular spot in the early morning darkness was much easier."
Philip Smith - IGPOTY Project Director, said: "All of the judges thought this was the outstanding image from this year's competition. First and foremost, it is technically superb.
Nic Barlow's 'Sunrise at Ballue', at Château de la Ballue, Bazouges-la-Pérouse, France
"The composition is wonderfully balanced, with its strong diagonal energy leading the viewer to experience this fantastic vista almost at first hand. The light on the rock is what creates the magic.
"The photographer has waited for exactly the right moment, on the right day and he has made a huge effort to be in the right place. The 'wildflower landscapes' category is all about plants in their natural enivronment, and this image is a fantastic example of the sheer tenacity and adaptability of plant life."
Next year's competition is already open, with the deadline for submissions set at October 31 2013.