There's something strangely compulsive about artist Kerry Skarbakka's 'Falling Man' images.
Featuring himself mid-plunge in a series of scenarios including shower slips and stair tumbles, studying his work can feel very much like guiltily rubbernecking at the scene of an accident.
Skarbakka's unsettling work has become deeply divisive – bringing him both awards and death threats – after it was interpreted by some as a recreation of the tragic jumpers from New York's Twin Towers on 9/11.
Scroll down for a gallery of Skarbakka's 'Falling Man' images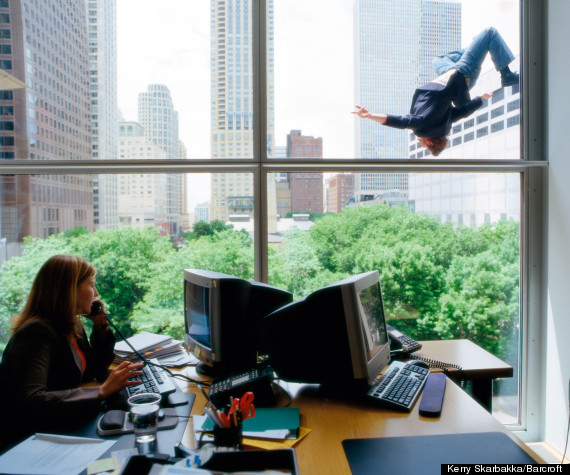 Kerry Skarbakka's work sees him hurl himself from a variety of surfaces in the name of art
Others have praised his projects for their insight and he was named an up-and-coming star on the NBC Today Show in 2009.
Skarbakka said: "Most people are amazed by the work and immediately wonder how I did it - or if I get hurt.
"Then after the initial reaction they start to think about the meaning.
"We live in a completely uncertain world, from austerity measures and corporate greed to clean food and water surpluses and climate change of an increasingly over-populated planet.
"This lack of control from an individual perspective is a big part of the message.
"I've had hundreds of wonderful letters from individuals stating how much they appreciated the work, as it managed to represent their own feeling of uncertainty."
His latest images titled 'The Struggle To Right Oneself' see him hurl himself from up to 7ft off stairs and trees and even through glass.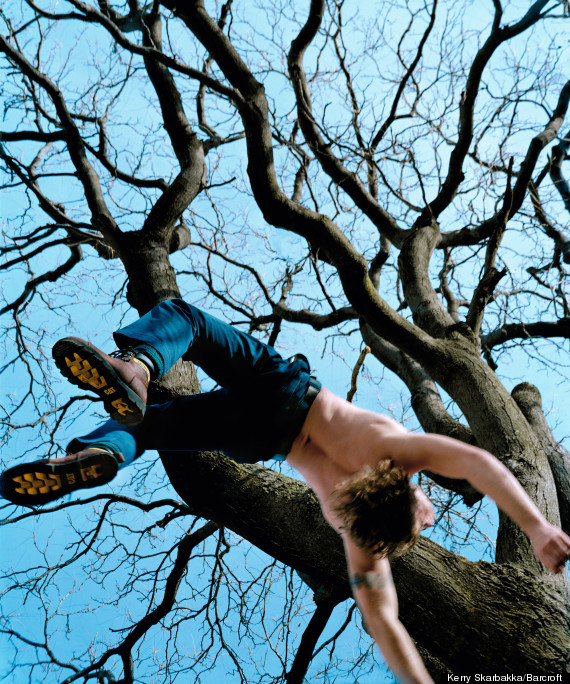 Skarbakka has received praise and death threats for his work
Skarbakka, 42, performs the moves without protection as long as it is "relatively safe".
Other more dangerous-looking images such as the bridge fall are performed with ropes or crash mats hidden from view or edited out in post-production.
He added: "I do get hurt from time to time but I don't want to become a sacrifice to my own artwork, so I'm as careful as a I can be.
"My most serious injuries included a broken rib, sprained ankles and a bad cut from accidentally kicking some live coral underwater.
"Otherwise, I've incurred chronic neck and back pain from years of making this work."
In 2005 he was repeatedly dropped from a four storey building by stunt rigging team the Chicago Flyhouse at the Museum of Contemporary of Art in Chicago.
The work, which simulated falling, was intended to "investigate how people handle crisis or the vision of crisis."
But some interpreted his work as a recreation of the victims of the 9/11 attacks on New York.
He said: "People were so angry with me. I received death threats, hate mail and taunts towards my dead mother.
"As this result was never my intention, it was the worst single moment in my career."
Skarbakka, who is based in Prescott, Arizona, now also works at Prescott College as a professor of digital media and photographic studies.
He took this job to supplement his income as an artist due to the economic crisis, which saw many galleries close.
He doesn't see this as detracting from his work as an artist and said he 'doesn't know anyone not trying to figure out how to survive' during the economic crisis.
"Often in this profession, success can't be measured by money or sales,' he added.
Skarbakka's upcoming solo exhibition 'Ten Years of Falling runs from May 25-July 6 at Kopeikin Gallery, Los Angeles.