Walking skulls, iPad-using dogs and creepily realistic holograms - the weird and wonderful union of science and art can be seen at The 5th Kinetica Art Fair at the Ambika P3, London.
Running until 3rd March, the Kinetica Art Fair is one of London's annual landmark art exhibitions. In fact it's the UK's only art fair dedicated to kinetic, robotic, sound, light, time-based and new media.
This year, Kinetica is hosting the work of over 45 galleries and art organisations, with representatives from UK, France, Russia, USA, Poland, Holland, Spain, Italy, Hungary, Indonesia and Japan showing over 400 works of art.
Take a look at our choices of some must-sees exhibits of creative ingenuity at The 5th Kinetica Art Fair:
Mechanical Flipbook

Horse in Motion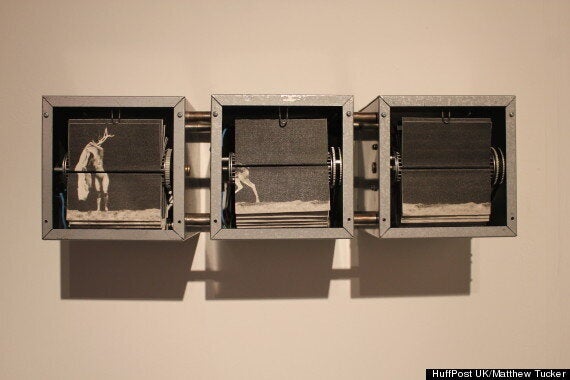 Fluttering images dance their way through a hypnotic story. Kinetic atists Mark Arnon, Rosen and Wendy Marvel create mechanical art to tell stories and tickle people's sense of nostalgia.
Browse through a flick-book below: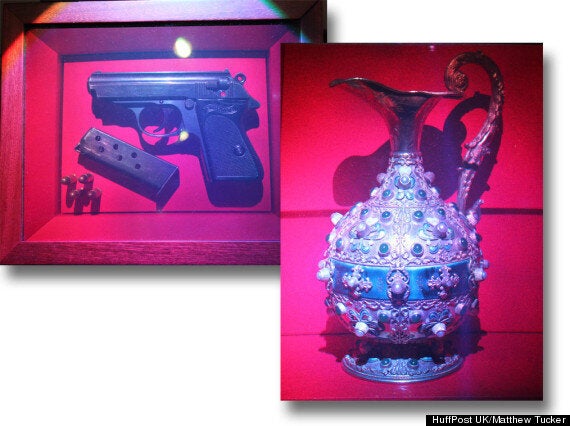 Can you see a handgun and beautiful jewel-encrusted jug? Wrong. These are flat holograms (albeit photographs of holograms).
The clever engineers at Colour Holographic have been researching and developing their hologram technology for 14 years, creating TruLifeTM; holograms that are so realistic you cannot tell them apart from real objects.
Here's a sneak peek at how they make these remarkable images:
Aphra Shemza

Composition X, 2012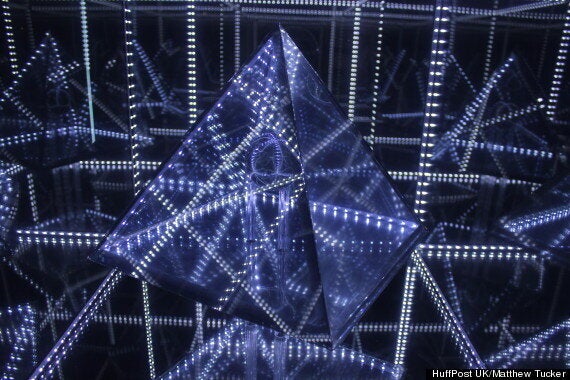 Emerging artist Aphra Shemza showcases Composition X; a sphere within a pyramid within a square, alluding to Kepler's Platonic Universe, a Platonic model of the solar-centred system.
The ultrasonic sensors measure the visitors' distance from the work and the LEDs turn on or off according to their distance.
Take a look at another piece of Aphra's work, named Literal Lines:
Roseline de Thelin

Seated Child (Columba), 2012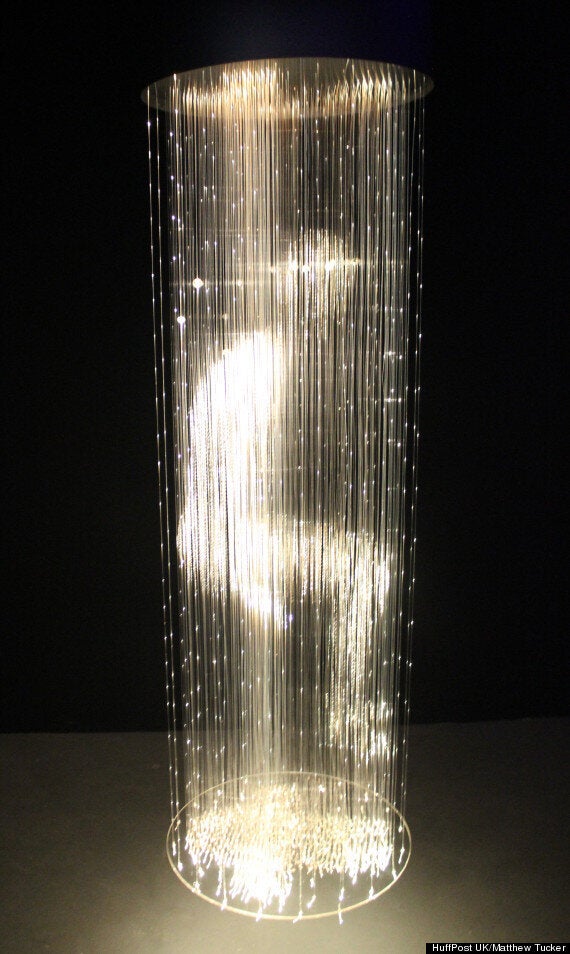 Seated Child (Columba) plays with brain perception. Made of fibre optics, the sculpture is an original technique developed by Roseline de Thelin to create 3D forms out of light points.
Watch a video of Thelin's art piece:
Baileybots, Marco Kruyt

Treasuring the Particle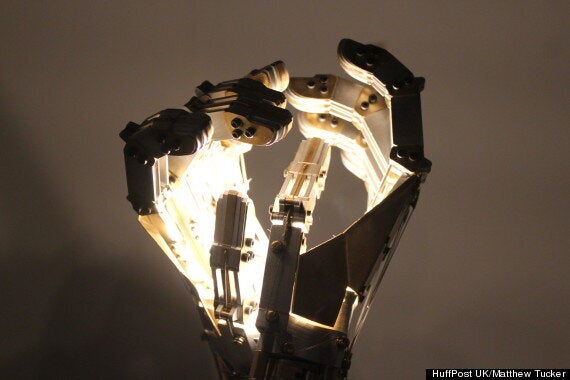 Two moving robotic hands cherish the particle, referring to an exploration into the deepest origins of matter, and our understanding of reality.
Marco Kruyt creates his art machines with automated metalworking machinery, which he designs and builds.
Gregory Barsamian

Die Falle, 1997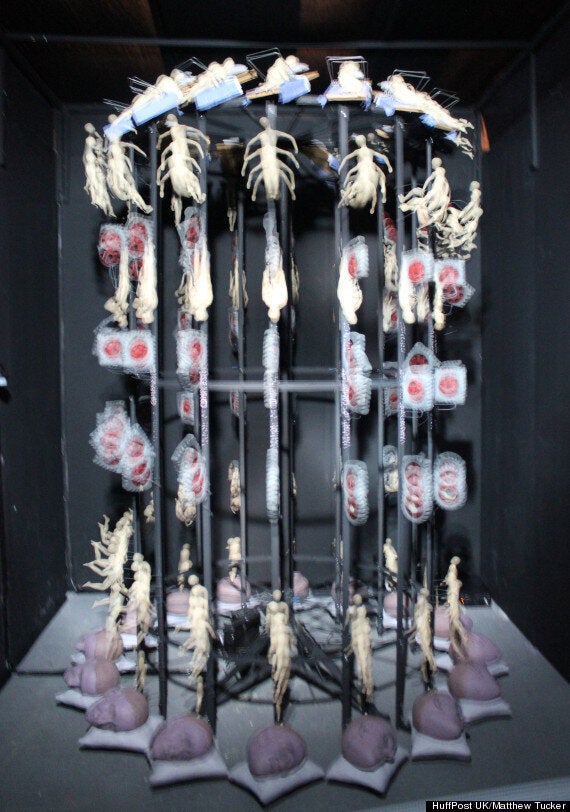 Taking on the visual illusion known as "persistence of vision", Gregory Barsamian's work Die Falle (The Trap) is a large-scale zoetrope of a man's reality in dream-time. The sculptures are perceived in real time but appear within a dream world.
As a student of philosophy, Barsamian became interested in the dream analyses of 20th Century psychiatrist Carl Jung.
Barsamian's exhibit at the Kinetica Art Fair uses strobe lighting to create jerky mesmerising movement, watch a video of the art piece below: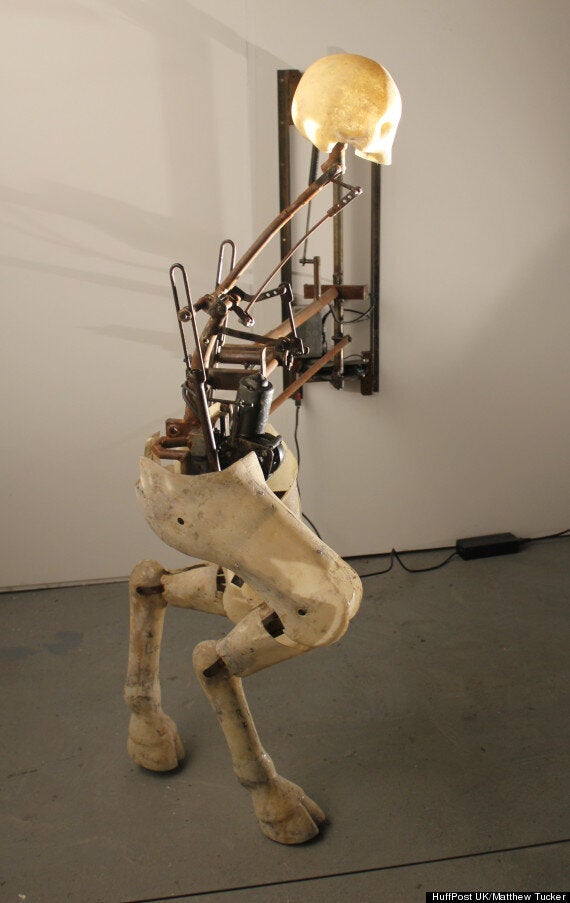 Tim Lewis creates animatronic objects that raise questions concerning the boundaries between nature, perception and fabrication.
Lewis' Pan is a mixture of man, animal and machine. The soft tread of the robot's hooves brings to life the myth of Pan, casting an eerie shadow across a white wall.
Take a look at another of Lewis' creations, at the Kinetica Art Fair 2009:
Flick through some of the other masterful creations at Kinetica Art Fair 2013: