Ryan Giggs' decision to sign another one-year contract extension with Manchester United will take him into his 40th year as a footballer.
Giggs, a skinny rake when he made his debut against Everton in March 1991 as a 17-year-old, is a club football phenomenon. His introduction as a substitute at the Bernabéu a fortnight ago unsurprisingly compelled Real Madrid supporters to applaud a man one Spanish paper the next day described as a "living legend".
United's most decorated player, Giggs is the figurehead of an elite European football pantheon. A one-club wonder whose like we will likely never see again, he is joined by a select few doyens across the continent.
It is appropriate to start with Javier Zanetti for he is also still playing. Three months older than Giggs, he turned 39 in August yet plays more matches each year than any other Serie A player - including goalkeepers. He joined Internazionale from Banfield in 1995, his endurance and consistency at the Nerazurri ensures he will be remembered as one of football's greatest full-backs. He has won 12 major honours with Inter - the same amount of titles Giggs boasts alone.
The duo even played against each other 10 years apart. Zanetti memorably fooled Giggs at the San Siro in 1999 before striking Peter Schmeichel's post, as United overcame an Inter onslaught to qualify for the last four of the Champions League. In 2009, United again prevailed over two legs in the round-of-16 tie.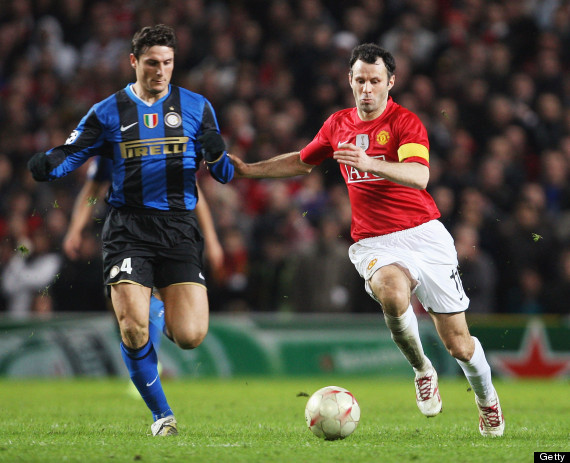 Giggs and Zanetti played against each other in 1999 and 2009
Paolo Maldini however did get the better of the Welshman on two separate occasions when Milan eliminated United from the Champions League twice in 2005 and 2007, just as the Rossoneri had done in 1958 and 1969.
But back to the individual, who played for Milan for the entirety of his club career. Whereas Giggs was 17 when he made his United debut, Maldini was a sensational 16-year-old and would be a fixture in the Milan side for 24 years.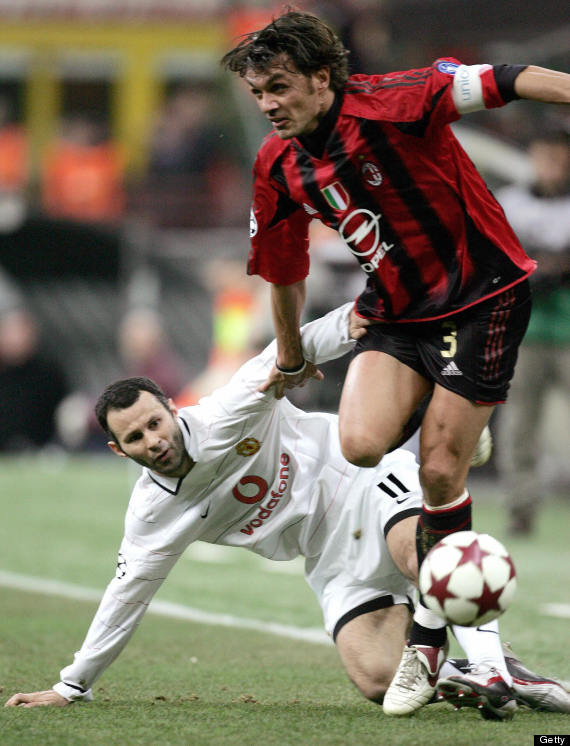 Maldini got the better of Giggs' United in 2005 and 2007
Maldini's class can be gauged by his role in several great club sides Milan boasted, from the Arrigo Sacchi European Cup winners of 1989 and 1990, to Carlo Ancelotti's feared side of the 2000s, via the 4-0 final destructors of Barcelona in 1994. Whatever the era, Maldini adapted to it and he is the record AC Milan appearance holder. He boasts 16 winner's medals, five of them for European Cups won.
Another player who left Giggs disappointed on two occasions was Raúl. He scored four goals in three games for Real Madrid against United in 2000 and 2003 and, despite currently plying his trade in Doha, will forever enjoy the adoration of Madridstas.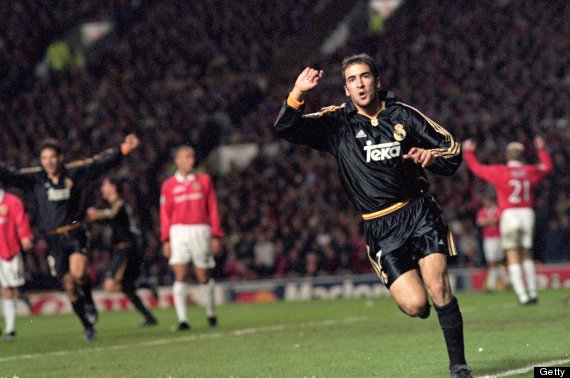 The tale of Raúl joining Madrid augments his legend. He signed with Atlético Madrid's Infantil team but the club's then-president Jesús Gil decided to close their youth academy as a cost-saving measure, so Raúl moved on to Real. Atléti's loss was Real's gain, and the club's number seven won three European Cups, scoring in the 2000 and 2002 finals.
He won six titles with Madrid before departing in 2010 for Schalke when Giggs could have ended up playing alongside the Spaniard. Sir Alex Ferguson admitted he was interested in signing Raúl on a free transfer but perennial crock Michael Owen already occupied the veteran striker role.
Paul Scholes is also still playing, although he hasn't featured for United since 26 January due to injury. A winner of nine Premier League titles, three FA Cups, two League Cups, an Intercontinental Cup and a Club World Cup, his reverence amongst United fans is chiefly down to his unpretentious professionalism. A genuinely great player in his heyday, few players have garnered worldwide acclaim like Scholes has.
He has made just 19 appearances this season and it is testament to his waning powers that despite United's midfield malaise, Scholes has not been particularly missed. He will likely retire - for good - at the end of the season.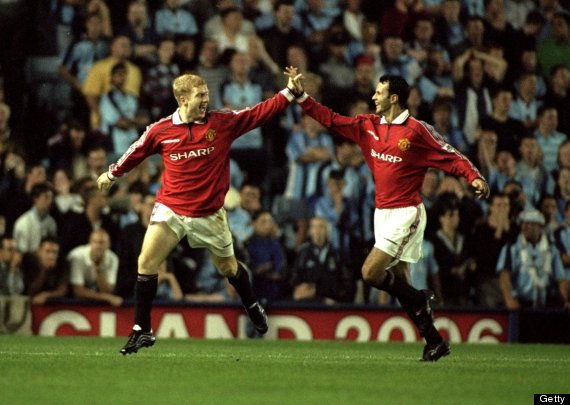 Scholes and Giggs have played together since they were teenagers
Down the East Lancs Road and Steven Gerrard and Jamie Carragher are two homegrown Scousers who are likely to have a big role in Liverpool's future. Carragher's imminent retirement especially will break a few hearts. Despite his boyhood Everton allegiance he has grown to love Liverpool FC and its fans have reciprocated that to the level he is probably more adored than Gerrard.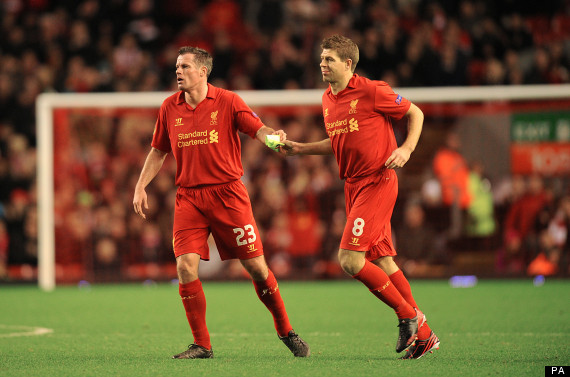 Gerrard and Carragher have played together in Liverpool's first team since 1998
Gerrard's boy's own performances in the 2005 and 2006 Champions League and FA Cup finals elevated him to a superhuman status. Whereas Carragher has never been a world-class player, Gerrard was, and Anfield may appreciate watching him during his peak more after he follows Carragher into retirement.
The duo were also members of the beginning of the club's renaissance when, under Gérard Houllier, they won the FA Cup, League Cup and Uefa Cup in the same season back in 2001.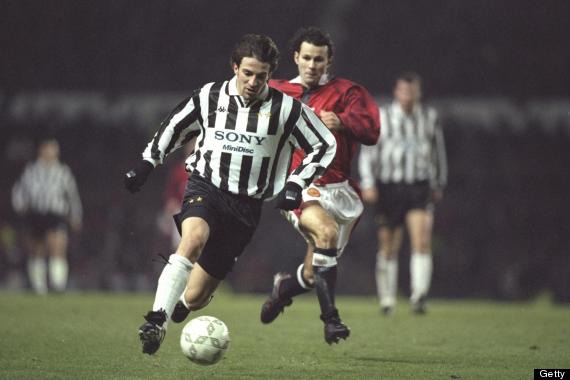 And finally, Alessandro del Piero. Now sunning it up in Sydney, the Italian united football fans - irrespective of their following - in their love of Il Pinturicchio.
Del Piero's association with Juventus between 1993-2012 is tainted by the club's EPO and Calciopoli scandals, but even during the Bianconeri's darkest hours he stood out as a beacon of hope for supporters. A masterful free-kick taker and goalscorer, his loyalty to Juve was tested when the club was relegated to Serie B as a result of the match-fixing scandal, but he stayed to help the club win immediate promotion.
Fittingly, he once said: "Only two players made me cry when watching football, one was Maradonna and the other was Ryan Giggs." Here's to the legends.