If you thought you were crap at maths rest easy – Tesco is even worse.
The supermarket failed to entice customers with a half price offer on chocolates which charged more than the original cost.
The Mother's Day offer screamed of a 50 per cent cut in the price of a box of Thornton's. Bargain: A tempting Mother's Day offer at Tesco
But underneath the sign, in Tesco Express at the Mailbox, in Birmingham city centre, shoppers were informed the previous price of the chocolates was £7 - and the new price was £7.35.
A Tesco spokesperson said: "This was a labelling error, which we are taking steps to correct as soon as possible.
"Any customers treating their mums to these chocolates will still pay half price, which is £3.50, and we're sorry for any confusion caused."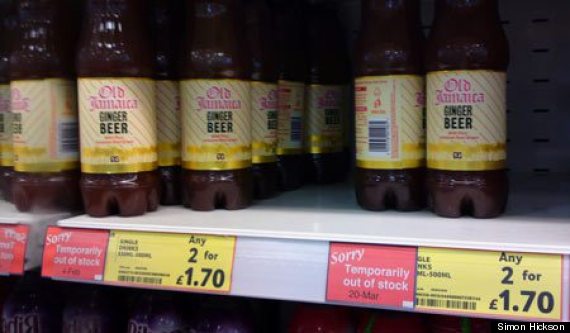 Simon Hickson collected Tesco screw-ups
It's not the first time Tesco has run out of fingers when doing its sums.
Comedian Simon Hickson blogged about the store's blunders a few years ago.
A recurrent theme he noticed is the supermarket giant's habit of bodging up its maths (in the above case you can buy a ginger beer for 72p or two for £1.70), then announcing an item is out of stock when the shelves are groaning with produce.
Hickson wrote: "Not only have Tesco messed with my mind maths, they've now made me hallucinate."