Oscar Pistorius' family have distanced themselves from controversial comments made by the Olympian's father about gun violence in South Africa.
Pistorius shot girlfriend Reeva Steenkamp dead on Valentine's Day, and claimed he believed her to be an intruder on his Pretoria premises in South Africa.
His father, Henke Pistorius, said the African National Congress government was not doing enough to protect white South Africans and spoke of his concerns about his family using guns to defend themselves.
But Henke's relatives are "deeply concerned" by his interview.
"The Pistorius family own weapons purely for sport and hunting purposes," said Arnold Pistorius, the family spokesperson and the athlete's uncle.
"Henke's interview was unapproved by our media liaison team and doesn't represent the views of Oscar.
"As a family, and Oscar in particular, we will never be the same after 14 February. We are still in deep mourning."
With 15,000 people murdered last year in South Africa, Henke Pistorius singled out crime against white South Africans in an interview at the weekend.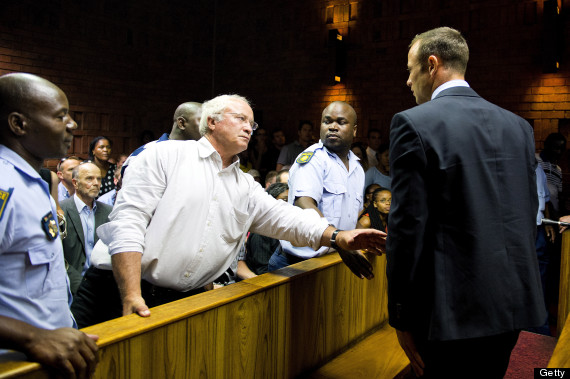 Pistorius is comforted by his father Henke in court
Oscar Pistorius began collecting guns last year and it was recently revealed his father, grandfather and uncles own 55 guns between them.
"Some of the guns are for hunting and some are for protection, the hand guns. It speaks to the ANC government, look at white crime levels, why protection is so poor in this country, it's an aspect of our society," Henke Pistorius said.
"You can't rely on the police, not because they are inefficient always but because crime is so rife. That doesn't mean I haven't been hijacked, attacked. As a family, we value life much too much to produce guns at every opportunity we can use them.
"I have been in positions where I can use a gun but we have been brought up in a way that we value the lives of others very highly."
His son used a 9mm gun to shoot Ms Steenkamp, who was 29.
Pistorius has openly acknowledged his estranged relationship with his father. His parents divorced when he was six and his mother died when he was 15.
"My father wasn't around much when we grew up," he told the Guardian's Donald McRae. "I saw him seldom – and it's the same now. He lives and works very far from me on a dolomite mine."
The trial for the murder of Reeva Steenkamp is to begin on 4 June.