Victor Chandler has a reputation as a gentleman bookie – a traditional charmer whose business is more caring about its punters than some of the other well known brands.
He took over his father's business in the 1970s after his father's untimely death. Asked whether he ever considered giving up his birthright to the business, he told the Huffington Post UK he always felt he had little choice.
"I had been working as a consultant in Spain after attending college in Switzerland, but I returned home when my father became ill," he said.
"The illness was quite protracted, so I opened an estate agents in Brighton first. It never really occurred to me that I'd have to run the bookies until my father died."
He was never tempted to not take on the business though, driven by his two sisters in school "and a mum to keep".
"It was a shock though when the accountant told me that the business was insolvent."
Not only was that business insolvent, his father's other venture was a property development business, and at the time of Chandler's takeover the property market was in freefall.
He started by selling off the shops that were hard to manage and focused on his main business – a credit business for high-rolling customers.
"The turning point was in 1977 really and Ascot," he said. "By that point we were back on course and people had started to have money again. I also knew what I was doing a bit more – not that I didn't have a lot of help from within the company.
"We had a few hiccups between then and now of course, but nothing too bad."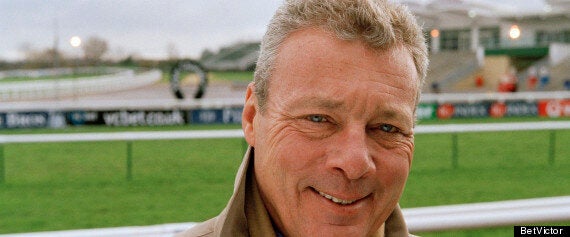 Victor Chandler at the races
But it wasn't until 20 years later that Chandler's biggest break came – In 1996 and 1997 Chandler jumped on planes to China and Singapore and started recruiting high rolling betters. In these regions, bets were often limited – Chandler's unique service proposition was he would accept large bets.
Many of these wealthy customers had been frustrated by their inability to lay sizeable bets on the 1994 football World Cup, he told HuffPost UK. They were also frustrated by having to pay tax, something which was to lead to Chandler's next big break – moving offshore.
Ahead of the rest of the bookie peers – and unhampered as a private company unlike his listed rivals such as Ladbrokes, Chandler started a search for an offshore base from which to run his business tax-free.
After looking at Bermuda, Antigua and Jersey, he settled on Gibraltar.
"The Gibraltar government were extremely accommodating – its ship repairing business was in decline and they were more than happy to have us," he said.
"It was an English speaking locality too, which made it easier to recruit. The technology didn't seem that bad and we got a license very quickly."
Over the following few years Victor Chandler became one of the pioneers of online and mobile gambling – what does he think will be the next revolution to hit gambling?
"I don't think we've even begun to scratch the surface of mobile yet – the world moves so fast and I couldn't tell you what was going to be the next game-changing technology for our sector, but I'm sure there's more to come from mobile," he said.
Screen grabs of BetVictor's apps
"We've got our development team looking at switching more of the business to mobile from the internet – my wife, my kids, everyone I know rarely uses a laptop or desktop anymore, they run everything from tablets and smart phones.
"Our industry pushed the boundaries of the internet in the past 10 years, now it's going to do the same with mobile devices."
Amusingly, during our exchange his four-year-old interrupts our conversation to ask Chandler how to fix something on his tablet. Chandler kindly hushed them away, telling them to ask a sibling to look at it as "I don't know how to work it".
"Four years old," he marvelled at his young tech wizard.
Another venture BetVictor has entered into is the realm of spread betting – tying itself up in a partnership with the London Capital Group (LCG).
The white-labelled venture – branded BetVictorFinancials.com – went live in January – and allows customers to trade indices, FX, equities, bonds and commodities via the website using the infrastructure of LCG's spread betting and contract for difference platform.
The only potential fly in the ointment is LCG, along with other spread betting firms, had a bit of a rough 2012.
Revenue slid by 27% from £39m to £28.6m, and aggregate losses from the group's Australian business and Gibraltarian business totalled £1.2m.
Last year also saw Ladbrokes spread betting partner Worldspreads collapse, leaving Ladbrokes to cover all of its customers' losses.
Is he concerned about partnering with such a volatile sector?
"I'm happy with LCG as a partner – I'm aware they've had a few problems and that they're share price was hit after a deal with City Index was walked away from, but their technology's as good as anyone's and everyone had a rough year in 2012," he said.
"They need volatile markets to do well, which weren't around much in 2012. From what I've seen from trading in 2013, the first few months of trading have looked better, and I'm sure they've got a good future ahead of them."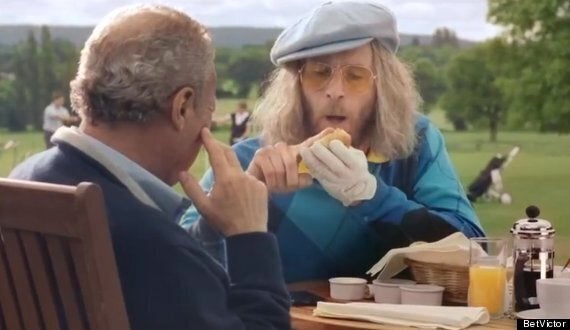 Still from BetVictor's 'Talk to Victor' campaign
The other decision which has raised a few eyebrows was BetVictor's recent series of adverts, starring comedian Paul Kaye as an old fashioned betting aficionado Maurice.
Several people HuffPost UK spoke to described the adverts as "weird" and "creepy", statements which made Chandler laugh out loud when HuffPost puts them to him.
"Well at least you're not going to forget them!" he laughed. "Look, I like working with Paul, he's brilliant and such a perfectionist and it's good that we look different. Paddy Power's adverts are good, but everyone else in the market looks the same."
He's not wrong; many of his rivals have stuck the same tired format of glossy looking girls twirling cocktails over zooming images of roulette tables and black jack hands.
Chandler confirms they are working on a new series of adverts now, which will be finished in 18 months' time. Will they feature Kaye again?
"We're working with Paul for a bit longer, but there's no major decisions been taken yet," he confided.
In an interview with the Guardian in 2008, Chandler drew an unusual analogy between the financial crisis and poor quality pork chops.
Essentially he told the reporter that if you took three good pork chops, one bad one and minced them all together and made four sausages, all four would be contaminated – and everyone is affected.
Does he stand by his slightly eccentric rhetoric now, five years on?
"I like to think I've been proved at least partially right by the pork chop analogy," he said, with a hint of a smile in his voice.
"I'm just amazed that the governments here in Europe and in the US haven't bitten the bullet yet. And it seems extraordinary that the euro still exists as a currency.
"When you live in Spain and your friends are in Spain, you see how badly the situation has deteriorated here. The police haven't been paid in more than six months."
Chandler is clearly moved by the poverty and struggles he sees around him – he talks with compassion when he relays that two orphanages had been closed down due to lack of funds, and is genuinely concerned that civil unrest will hit Spain, as it has in Greece.
"There's huge unemployment here – Cadiz has 50% unemployment for its under 25s now.
"It extends into every part of life. One of my employees went to the pharmacy for a prescription and was told he'd have to pay the full rate because the pharmacist couldn't afford to sell the medicine at a subsidised rate anymore as he was facing bankruptcy.
"And the drug and crime rates are rising. It's not as bad as the situation in Greece, and you do what you can to help, but it is depressing."
Chandler also criticised the Spanish government for not getting to grips with the restrictive labour laws in the country, which according to him make the British ones look "simple".
"It's almost impossible to fire anyone, which means businesses are too scared to hire. Yet each town hall is oversubscribed with workers by 300%, because each time a new councillor's come in they've brought their family with them, and nobody's ever let go of."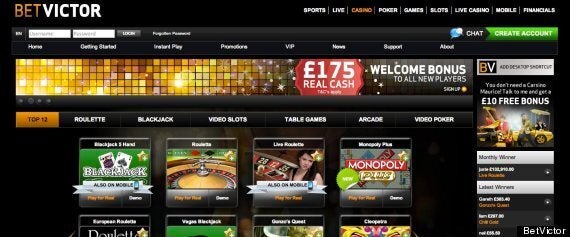 BetVictor's iconic website
On a happier note, HuffPost UK asks Chandler for his favourite betting story – he's legendary for his tales of ludicrous bets, (some of the best ones are in this write up by the Guardian) how he dealt with debts owed by well regarded punters and the extremes of society he's seen. But he opts for a simple tale:
"The first time I went to Asia I went out to go and get to know one of the nation's biggest players - I took him to the races in Singapore and he had quite a few horses of his own racing that day.
"On the second race of the day, he had a runner, and told me he wanted to make a bet with me there and then. He said, 'I want a bet of US $100,000'. So I had a quick look at the odds and they were daft - 66/1. I thought, that's a big liability, given I knew nothing about Singapore races, but I accepted.
"As the horses came out, his horse stole away into an early lead. By the final bend, it had a 10-length lead on the others… but then it just stopped. And every other horse over took it.
"He looked down at me, smiled, and said 'Just testing'."
Before we wrap up, HuffPost UK pressed Chandler to regale us with tales of some of his UK punters. "The problem is, a lot of them are still alive," he said, quite wisely.