Dom Gaynor owns karting business TeamSport, and can count the likes of One Direction, Simon Cowell, Tom Daley, Ellie Goulding and Tulisa as customers, along with committed petrolheads, friends, families, stags and hens.
More than 12 years after first joining the company, Gaynor has just led a £9 million management buyout. Here, he tells us about how he funded his karting dream, how he scaled up his business and why karting's likely to be in his future for a long time to come.
What were you doing before you set up your karting business?
After studying modern history, politics and economics at Cardiff University, I joined TeamSport briefly in 2002 in a sales role, before backpacking around the world and working in Australia. The undoubted highlight of my year away was watching England win the Rugby World Cup Final in Sydney!
I rejoined TeamSport in late 2004, as sole report to owner Paul Wrightman, getting involved in the operations side of the business.
While I'd been away, TeamSport's main track, Aldershot, had closed and the company was struggling. Without the turnover Aldershot produced – and now with only four tracks, we had to slim down our head office function.
That gave us an additional headache since that's where we'd been based – and cost was incurred in finding new office space. It became clear we that we needed to open more tracks to get the critical mass required to make the company work. We opened Camberley and Cardiff in 2006; our fifth and sixth tracks.
We had a very tough couple of years. We spent a lot of time at each track, raising operational standards as well as working with our sales teams to improve their operations too. We re-branded the business from Go Karting for Fun to TeamSport.
Re-branding was part of the repositioning of the product - Go Karting For Fun made it sound a bit too much like a kids' activity, as opposed to the adult corporate market we were looking to attract. We then invested in a new website and set up online marketing campaigns.
Why did you decide on karting as a line of entrepreneurship? Did you ever consider doing anything else?
Initially, because of the variety my role gave me. I was working across all areas of the business: sales, operations, accounts and marketing. I quickly realised I was being provided with the best business graduate programme possible: to actually run an SME (small and medium sized enterprise).
As a result I quickly became very passionate about everything we did as I felt a real sense of ownership. Even though I was not a director or shareholder at that time, I always acted as though I was.
It was also the fact that the business itself has a great product; it's all about delivering a fun experience. If you don't get excited about seeing people having a great time in the facilities you built, you shouldn't be in a customer service business!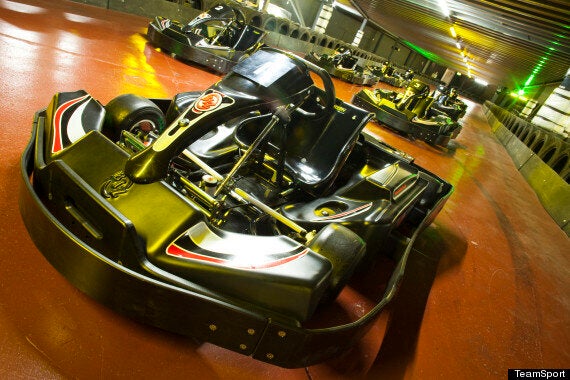 Some of TeamSport's karts
Where did the money come from to fund the business initially?
You name it, we did it! To fund our growth, Paul and I borrowed money from friends, family, even suppliers!
We had maxed out personal credit cards, with very high limits as personal debt seemed easy to come by back then.
Pre-2008 we had some help from our bank via the government-backed small firms loan guarantee scheme, but not nearly enough.
Post the banking crisis, availability of bank debt dried up completely. To the end of June 2012, we'd made £1.4m profit, but were only able to get a £100,000 short term overdraft after threatening to take our banking elsewhere.
The idea that the quantitative easing programme is helping banks lend to growing SME's is a complete fallacy. Banks are just taking the money and sitting on it.
What mistakes did you make in the early days of your venture? What would you go back and warn your younger self about?
Probably better planning and financial management of build projects to ensure they didn't run over budget, or over time. That was a big lesson and one reason we have now brought a strong financial director into the business to keep a rein on our entrepreneurial activities!
Did you have any 'throw the towel in' moments where it all became too much?
Never. I always had confidence that we could make a real success of the business. This conviction is the difference between people who have a good idea and those who go out and make it happen, sometimes when everyone else is saying it is a bad idea.
Insight, intuition or gut feel for an opportunity can be an entrepreneur's biggest asset, but also your worst enemy (if you close yourself off completely to other people's advice). You just need to work out who is worth listening to!
How did you go about scaling up from the initial business to the one you have today?
Investment in our people. You can't grow a business without letting go to an extent. You need to get good people into the business who are better than you in their specific area, be it sales, marketing or operations. Many businesses are strangled by owners who want to maintain control as the sole decision maker in every area of their business.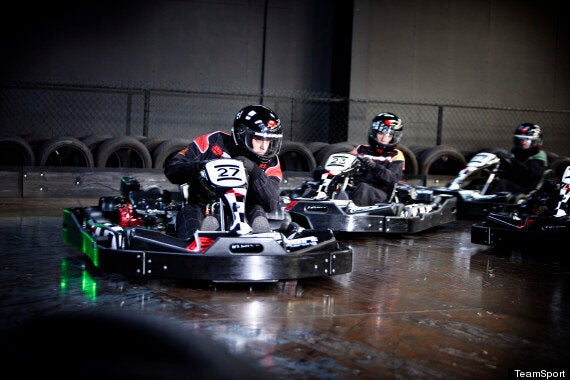 In action shots on the Crawley race track
You still have to spend time training people so they understand how and why the business operates as it does, particularly on standards of facilities and customer service. Once they get that, good people will then drive their area of the business forward. You also have to create an environment where it is okay for people to make mistakes - as long as they learn from them and those mistakes are not too big!
Another secret of our success has been our tracks. They are beacons of hi-tech, high style fun – with impeccably high standards. With many tracks having multiple levels, hairpins and banked turns and all with professional racesuits and helmets, they appeal to both sexes. Our £6,000 karts can get up to speeds of 40 miles per hour, but at just two inches from the ground it can feel twice that.
What's been your proudest moment?
When going through the various private equity and bank meetings to raise the finance for our £9 million management buyout last month. After every meeting the feedback was that they were really surprised by the professionalism of the business, quality of the information and strength of the management team.
Most meetings happened at our ground-breaking carbon neutral Tower Bridge track due to its central London location, so I think showing off our facilities there helped as well.
It was great to get external recognition from very experienced business people that we had built something that was investable.
What advice would you offer to other wannabe entrepreneurs?
Have the courage to go for it and listen to your gut!
What's next for your business?
Now we've secured the management buyout, we are set to nearly double the number of our state-of-the-art tracks. We'll grow from nine to 16 circuits across the country by 2016, through a combination of acquisition and new build opportunities.
We are hoping one of those will be London-based (taking us to three in the capital). We need them! =We've witnessed a 40% rise in our visitor numbers in just three years, and more than a quarter of a million people karted with TeamSport last year.
Our customers range from celebrities and drivers, such as One Direction, Mark Webber, Simon Cowell, Damon Hill, Tom Daley, Ellie Goulding and Tulisa, through to committed petrolheads, friends, family and over 8s, plus stags and hens. Numbers of corporate team-building groups are also snowballing.
Would you consider selling up and doing something else?
For now, I am 100% committed to growing TeamSport to a UK-wide, recognised leisure brand. We want to grow to 20 tracks over the next five years, and that is something which really excites me.
After that, who knows? Further growth within the UK, and the prospect of taking the brand to Europe or the US, where the karting market is just as fragmented as in the UK could follow. There are many other areas of leisure to which the TeamSport model could be applied, allowing us to diversify as well. For now though, it's one step at a time!
Popular in the Community