'Game of Thrones' latest recruit to the battlefield is a supreme fighter. The most skilled swords-person in the land. The keeper of the staunchest moral code. Only one thing has brought this unique military specimen to tears, or at least the actress playing her. Having to make a trip to the salon, and having her long blonde locks chopped off for the role...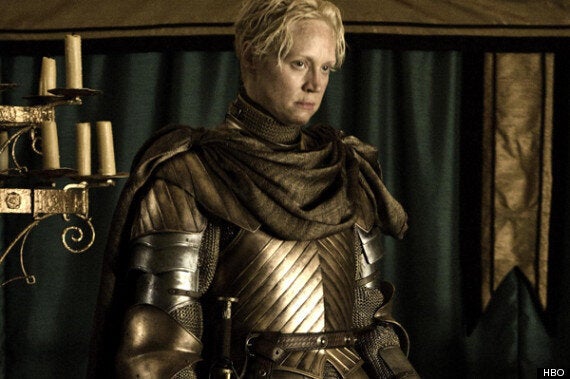 Gwendoline Christie plays Brienne of Tarth - "I know how to look after myself in a fight now"
The striking actress Gwendoline Christie who plays Brienne of Tarth in season 2 of the hit series doesn't initially even want to talk about her transformation, but is pressed by her mischievous co-star Nikolaj Coster-Waldau... "What about that moment in the back of the car on the way back from the hairdresser?"
She pauses to give him the evil eye, saying: "You mean when I cried for two hours? It was very hard having that haircut, and I'd really like to sit here next to you and talk about that in intimate detail, so you can enjoy my vibrating vulnerability."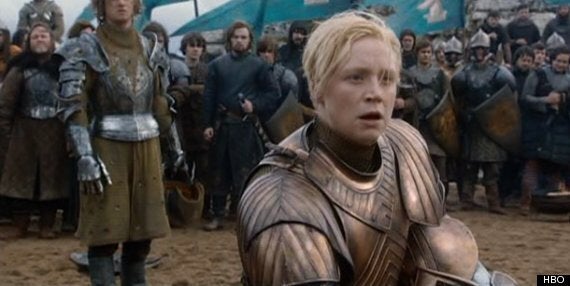 Gwendoline Christie has transformed herself "in service to a part I do absolutely love"
"It's very hard as a tall woman to remove your deliberately pronounced feminine aspects and look more masculine," Christie (6'3") explains. "But in service to a part I do absolutely love and I do believe is doing something to change notions of femininity, then it's actually a pleasure."
"Good answer," says Coster-Waldau approvingly, before she gives him another swipe with her eyelash.
This pair, who evidently get on very well in real life, share many a scene in this second series, as Brienne is ordered to escort the Kingslayer Jaime Lannister (Coster-Waldau) back to his home at King's Landing. "Who is this monster?" are his first words on seeing her, before remarking on her pretty eyes.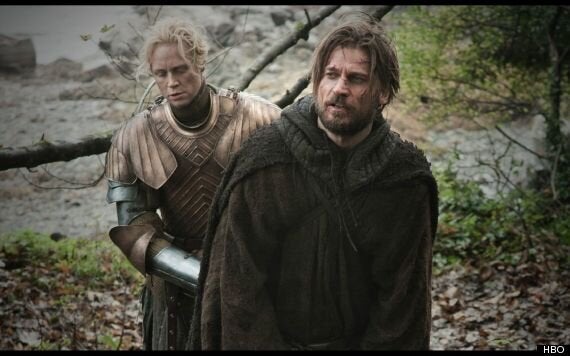 Brienne and Jaime Lannister become unlikely travelling companions
But it is Renly Baratheon, to whom Brienne's heart belongs. "It's never really going to work out, given Renly's preferences," Christie explains, "but it's detailed in the book that Brienne falls in love with Renly because he's the first man who treats her like a woman, there's a scene where he asks her to dance and treats her tenderly, and it's the beauty of someone with that kind of character that Brienne falls in love with.
"It's not something she's ever been shown before. And she chooses that reason to fall I love with him...
Sounds... reasonable, I suggest? Tragic," she laughs.
As for Christie's own star, it's on the rise since she got this, her first big TV role after a career mostly in theatre. How's she coping with the increase in attention?
"Now instead of people coming up to me and asking how tall am I, now they come up and ask if I'm an actress and I've been waiting my whole life for that, so actually it's improved, and people are so nice. It's a glorious thing."
Nearly as glorious as Brienne in battle.
Who's your favourite character in 'Game of Thrones'? Let us know below...
Game of Thrones S2 is out now on DVD, Blu-ray and Download. Watch the trailer below...
Popular in the Community