Agnetha Fältskog is no stranger to the charts. As one quarter of supergroup ABBA, she conquered them effortlessly for a glorious decade back in the 1970s.
But "the blonde one" is almost as famous for her withdrawal from public life, following her divorce from songwriter/guitarist Bjorn Ulvaeus and the band's eventual split.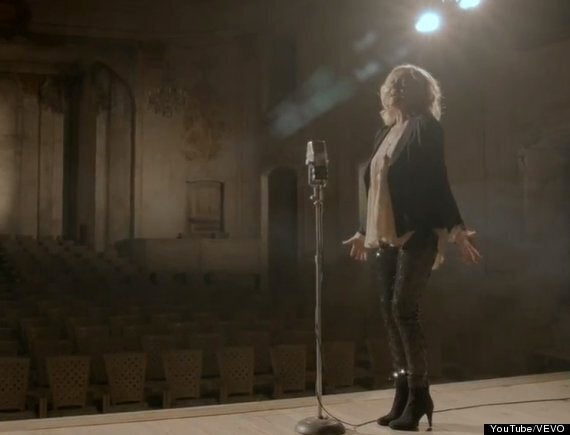 It's like she's never been away...
Despite several forays into the pop world, either as a solo artist or on duets with the likes of Peter Cetera, such strange anecdotes as her being romanced by a Dutchman who later became obsessed by her have all contributed to her Garbo-esque myth - the vision of her beautiful but alone on a Swedish island, staring forlornly into camera, singing in perfect English but with the hint of an accent, and occasionally closing her blue-covered eyelids in despair is a seductive one.
It is one the Swedish singer refutes, however, telling the BBC earlier this week: "I have been described as a very mysterious human being and that hurts a little bit, because it's not like that at all."

In Pictures: ABBA
However, that could all be about to change, with her first solo album in nine years set for release in a couple of months. And who better to lead her back to centre-stage than the UK's resident crowd pleaser, Mr Gary Barlow? Barlow has shared vocal duties on a song, 'I Should Have Followed You Home', from her forthcoming solo album, 'A'.
And this morning, Agnetha debuted the first single from the album, 'When You Really Loved Someone', a track which was her solo songwriting contribution to the album.
Have a listen above and decide - has she still got it? Let us know.
Judging by first listen, this pleasing key-changer could have been a convincing entry for this year's Eurovision Song Contest, an event Agnetha knows how to win (1974, 'Waterloo' - what else?) even if she might have had to perform in slightly lower heels this time around.
Instead, that honour's going to Bonnie Tyler with 'Believe in Me', while Agnetha sets herself for the release of a forthcoming solo album 'A', due for release on 13 May 2013, with the single above available for download now.
And, here's Bonnie's entry, just to keep you in the mood for a power ballad come 18 May (Eurovision final day)...
Related