The Premier League clubs that qualified for this season's Champions League will reportedly be offered £175m each to compete in the 24-team Dream Football League in Qatar and other Gulf countries in 2015.
Manchester United, Manchester City, Chelsea and Arsenal have been targeted by the sovereign Arab state as it prepares for the 2022 World Cup with a tournament which could leave an indelible mark on world football.
The DFL's prize money dwarfs that of the Champions League, which boasts an annual prize fund of £595m. Last season's winners Chelsea pocketed £47.3m whereas their mere participation in the DFL would see them earn four times that amount. Real Madrid and Manchester United would both be invited by the DFL
A Qatari official involved with the project was quoted by The Times as saying: "The European crisis means the continent is no longer able to bear the cost of football clubs. We propose an alternative to Financial Fair Play: all clubs will be as rich as each other. This way we will preserve the big show, the most beautiful and finest teams and players. This is a paradise for players that we will build in football's future."
The Premier League, the European Clubs Association or Uefa have not commented on the proposals, but in an age in which crass commercialisation taints football, the prize money will almost certainly appeal despite the havoc it could wreak with the fixture calendar. By the end of the season, Chelsea will have played at least 63 games despite elimination from the Champions League at the group stage.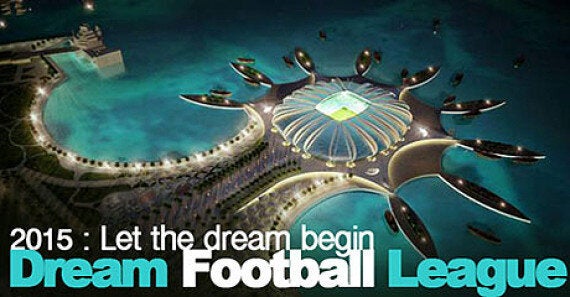 Qatar's influence in European football is growing. In 2010 Sheikh Abdullah bin Nasser completed his takeover of Primera Liga side Málaga - Sheikh Abdullah is from the Qatari ruling family and a distant relative of Qatar's current ruler Sheikh Hamad. In 2011, Qatar Sports Investments bought Ligue 1 PSG and while it is unclear whether QSI share personal investments with the country's royal family, essentially both PSG and Málaga may both be owned by the Qatari royal family. The Parisiens are owned by an investment fund and the Primera Liga team bought "personally".
Barcelona also announced an agreement with QSI in November that Qatar Airways will appear on the club shirt from the 2013-2014 season.
"Everything screams: 'This is fantasy", Vittek said.
"It seems like The Times totally misinterpreted it and then tried to claim those fake news were theirs. Terrible. The details we read from English websites match the ones in Cahiers du Football."
Popular in the Community