Arsenal fans are perhaps the only set who can be left disappointed after victory against Manchester United, but two years ago that was the mood as Gooners trudged, rather than skipped, away from the Emirates Stadium in the north London sunshine. Aaron Ramsey's goal had earned them a first victory in three, and that, as well as the "what if"s, were the problem.
What had preceded the United win was endemic of Arsenal then and now. Robin van Persie's 98th minute penalty at home to Liverpool was cancelled out by Dirk Kuyt's 102nd minute penalty before the Gunners surrendered a 3-1 lead at Tottenham to draw 3-3. Then mid-table Bolton beat them 2-1 to effectively end an abject April and Arsenal's title aspirations.
The 2-0 victory against Bayern Munich came under similar circumstances to the United win. The pressure was off and the match was treated by those outside of the club as inconsequential. It happened at the same stage last year when they beat AC Milan by three goals after a humiliating 4-0 loss in Italy and is an indication of the "mental" fragility Arsène Wenger cited when explaining Wojciech Szczęsny's demotion. Wenger was "proud" of his team in defeat
Wenger excelled at impersonating Sir Alex Ferguson when prior to the return leg he hinted he would rest players, only to play a strong side avec Santi Cazorla and Theo Walcott. He had generated a tidal wave of apoplexy on Twitter but it proved to be a masterstroke. When expectations are low, lower them.
So naturally Arsenal started faster than Barcelona had against AC Milan. A third goal eluded them in what would have been one of the club's greatest nights, but for Tottenham fans close to being let down by Bayern again those familiar ominous signs are reappearing.
Manchester City used to be Typical City in their Yo-Yo club days but now they are a genuine force Spurs have adopted the moniker. A club prone to capitulations under David Pleat, Martin Jol, Juande Ramos and Harry Redknapp, they have too much form for it to be dismissed despite their current position.
The weekend defeat at Liverpool was a mini-collapse. At 2-1, Gareth Bale hit the crossbar only for Kyle Walker and Hugo Lloris to collaborate and assist Stewart Downing, before Benoit Assou-Ekotto's daftly hacked Luis Suárez down to gift Steven Gerrard the opportunity to win the match from the penalty spot. Spurs' Mousa Dembélé gets wound up by Luis Suárez at Anfield
Fifth-place Arsenal had a weekend off due to the FA Cup fixtures but will have been buoyed. There was something typical about Spurs winning a north London derby to move up to third only to follow it up with a capitulation the following week. Humiliating an inane Internazionale prior to the trip to Anfield was insignificant, and while lifting silverware remains more of a possibility at White Hart Lane rather than at the Emirates, the real trinket is finishing above the enemy.
Arsenal fans caring so much about their league position in relation to Tottenham is a victory in itself for the Lilywhites. Spurs have not finished above Arsenal since 1995 when Gerry Francis was in charge and, like Francis' hair, not much had changed about Spurs' mentality until André Villas-Boas took charge. His arrival has coincided with Gareth Bale's emergence into one of European football's best attackers and Spurs, for the first time since Dimitar Berbatov's maverick two years, have a talisman who can pull them out of the mire. The same cannot be said about Arsenal, especially with Jack Wilshere sidelined again.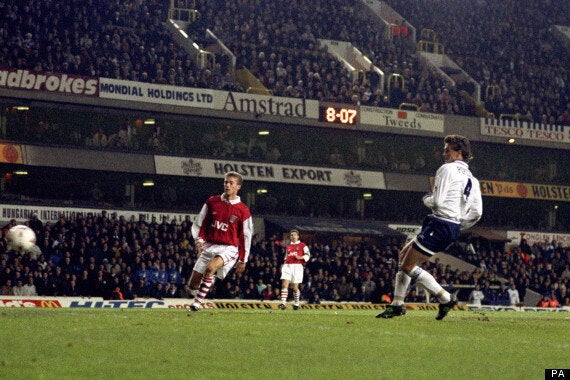 Gica Popescu scores Spurs' winner in 1995 - the last year they finished above Arsenal
Wenger's side are seven points behind (with a game in hand) but last year overturned a 10-point deficit to leapfrog Spurs when Harry Redknapp irrevocably upset the team's system. Tottenham's composure will be gauged by their three opening league games in April when they entertain Everton and Manchester City, with Chelsea sandwiched in between while Arsenal's run-in easier, with United the only top six team they have to face, is easier.
"I'm very proud of the performance of the team," Wenger said after the win-cum-defeat in Bavaria. Elimination from Europe and the FA Cup in the same week last year galvanised Arsenal as they won eight of their next nine league matches. A similar return may still guarantee north London supremacy.
Related