Benedict Cumberbatch has picked up another award for his starring role in 'Sherlock' and said he was looking forward to getting his teeth back into the part of the scruffy sleuth.
The actor, who was named best actor at the Broadcasting Press Guild for his performance in 'Sherlock' and the period drama Parade's End, said he was looking forward to starting filming next week.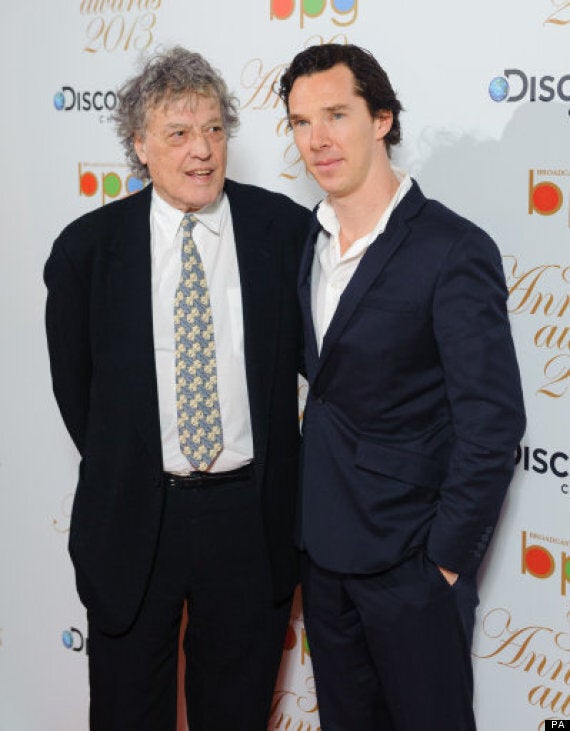 Cumberbatch with 'Parade's End' adaptor Sir Tom Stoppard
He said: "Playing Sherlock means a great deal to me. It's lovely to be back and have the hair in place. We're getting our teeth into the first episode of the new series next week so it feels like a treat. It's just wonderful to be back."
Benedict's 'Parade's End' co-star, Rebecca Hall, also walked away with a trophy after she was named best actress for her performance as his on-screen wife in the drama.
'Parade's End', which was shown on BBC Two in five episodes last year, picked up four prizes and was named best drama series, while dramatist Sir Tom Stoppard won the BPG writer's award for his work adapting the original novels by Ford Madox Ford.
Rebecca said: "I am very happy and proud to be here, because 'Parade's End' is a brilliant piece of television and I am glad it is being acknowledged. I think it has done so well because it has all the qualities of a heritage British drama but at the same time, it's subversive and original and has very daring characters and unusual relationships. It is quite challenging as a piece of drama and I think that's a rare commodity that people are starved of."
The award for best single documentary went to ITV's exposure of Jimmy Savile's sex crimes which sparked a chain of events including the downfall of BBC director-general George Entwistle and a wide-ranging criminal investigation into allegations of abuse in the entertainment industry.
The awards, which are sponsored by the Discovery Channel and voted for by journalists who write about television and radio, were handed out today at an event at One Whitehall Place in central London.
Other winners include Charlotte Green, who was named radio broadcaster of the year after stepping down following 25 years as a Radio 4 newsreader and announcer.
BBC Two's Olympic spoof 'Twenty Twelve' won the best comedy/entertainment award and Channel 4's Adam Hills won the breakthrough award for his nightly Paralympics show, 'The Last Leg', which gave an alternative view of the day's events.
Popular in the Community