Just when The Big Reuniters were getting into the swing of things - rehearsals, revelations and redemptions - they were hit for six, with... drum roll... the advent of Blue.
"They've been together for two year's, they're not even reuniting," sniffed B*witched's Edele. "How do you feel about trampling over all of us?" asked Michelle Heaton sweetly. "Who next, Shakin' Stevens?" asked 911's Lee - his best line of the series so far.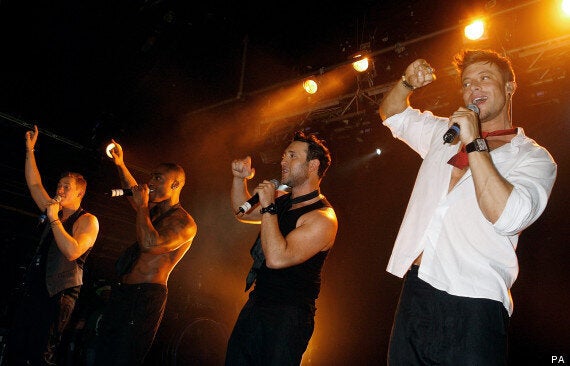 Blue, reformed since 2009 - which seemed unfair to some of the other Big Reunion people
Oh, how bonded suddenly everyone was, and this week's life lesson has revealed itself - namely, that the enemy of my enemy is my friend.
Never mind the collective indignation, Blue were here to join in all the fun - cue a look back at their RELATIVELY unscathed journey. In five years from 2005, they sold 13 million records, earned two Brit Awards and recorded with the likes of Elton John and Lil' Kim, with a handful of jaunty pop ditties and some syrupy ballads that surely never came from the mouth of Lee Ryan.
"My first sight of Lee was him head-butting a phone," remembered boyband Brad-Pitt-a-like Duncan James. "We didn't get on, I was from London and he was from Devon kind of way," explained Lee. Thus was many centuries of tribal conflict across the world explained. Meanwhile, Simon Webbe brought the band some smooth blingness - "I thought I was 50 Cent" - and Anthony Costa, well, he was the other one.
This part of the programme was really just a completely enjoyable exploration of the psyche that is Lee Ryan, his high point his loose way with a spray in a hotel, and he got extra points for drenching Alan Shearer. "We'd been doing shots of absinthe," he explained, taking his rightful place among Baudelaire, Van Gogh and Cantona's favourite Arthur Rimbaud.
Producers haven't even bothered to justify including the guilty pleasure of watching Blue in action in the show
Of course, it was Lee who helped pull the plug on the band, as far as the US was concerned, anyway, with his ill-judged remark, post 9/11 - "Who gives f*** about New York when elephants are dying?" It fell to unlikely tracksuited saviour Elton John to bail them out with a duet of Sorry... And why not? Four grinning youths, including Duncan with his preternaturally white teeth? What's not to love?
Back at the rehearsal ranch, the barneys between the bands seemed almost small potatoes.
5ive were bickering over musical edits. "Is that any way to move forward as a band?" asked Buddha Abs. "You're such a cock," was Scott's response. But, bizarrely, they're obviously getting on, even with Abs doing something as un-British as tipping Scott's tea away, with the best line of the entire series, "The dairy isn't helping the vibe!" Fabulous. Move aside Jamie Oliver - please can we put this man in charge of schools' food policy?
Over in Atomic Kitten, Kerry was having a cry, as was B*witched's Sinead, while Edele strove gamefully to hide her impatience - "I'm feeling more myself than I have for ages," she said sensitively, while her bandmate wiped her tears beside her.
911's little boy Lee was having the most trouble, trying to avoid looking like David Brent in the dance routines, and stuck in a deep 'n' meaningful with his ex, B*witched's Lindsay. It got deep. "It's been weird," they agreed.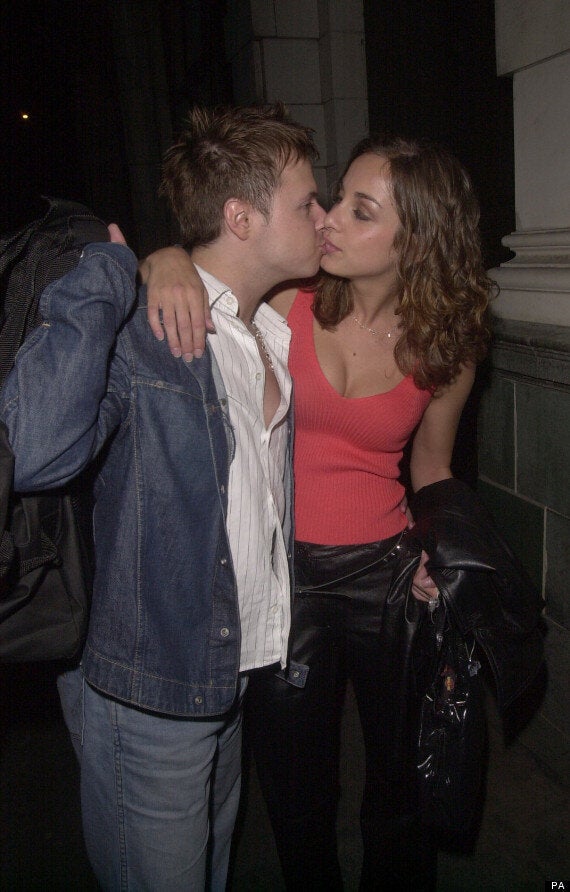 911's Lee and B*witched's Lyndsay in happier times
Never mind all that, though. Despite everyone's vow that there'd be "no bowing down to the alter of Blue-ness" all eyes were on them during their performance. Which was fine, except... is it me or are All Rise and One Love basically the same song? Anyway, they survived, and provided "some eye candy" for some.
Final question: Is Lee Ryan growing up? "At our age, I don't think we should be grinding our hips. I think it looks terrible," he said, which seemed strangely self-aware.
Oh, but he stopped worrying, because instead... "look at the redhead, she's fit, she's banging" he opined about one lucky dancer. Another life lesson - some things are just reliably consistent.