Cristiano Ronaldo's silence spoke volumes when he refused to answer whether he was happy again at Real Madrid.
In September, Ronaldo said he was "feeling sad" after he had chosen not to celebrate the two goals he scored against Granada in a Primera Liga win.
The 28-year-old has still scored 39 goals for Real this season, but chose not to allay fans' fears he may leave the club before his contract expires in 2015.
When awarded the Trofeo Di Stéfano for 2011-12 - Marca's annual prize for the best player in La Liga - the Portuguese international was asked if he was happy at the Bernabéu. AS claim an "awkward silence followed" as Ronaldo offered no comment.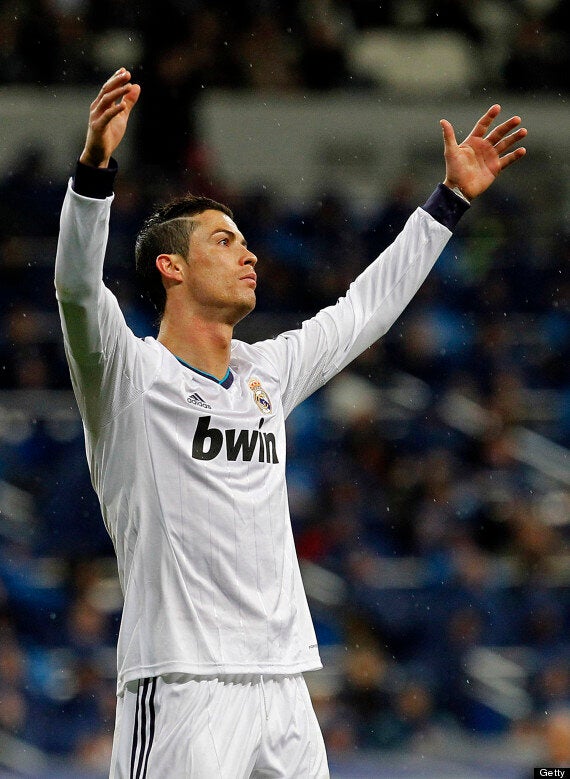 Hands up if you have no comment
The love affair Ronaldo rekindled with Manchester United fans a fortnight ago - despite knocking his former club out of Europe - has prompted speculation he could re-join the Premier League's champions-elect.
Nike are due to renew their sponsorship with United and tentative talks have allegedly occurred regarding the possibility of the American sportswear giant part-financing a move for their client. Ronaldo wears an Adidas kit with Madrid.
Ronaldo gave a banal soundbite when asked about the remainder of the season for Madrid, who will play Galatasaray in the quarter-finals of the Champions League and face city rivals Atlético in the Copa del Rey final.
"There's still a long way to go, but we're in the final of the Copa del Rey and we have taken a big step forwards in the Champions League," Ronaldo said. "It'll be difficult to win La Liga, but we have to fight until the very end."
"I hope that we achieve our goal for the season, which is to win an important piece of silverware."