Thanks to a very dear and generous friend, I find myself - for one night only - at the astonishingly beautiful five-star Lime Wood hotel and spa in the heart of the idyllic New Forest. And considering it's one of the most wonderful places I've ever stayed in, it would have been rude not to try a treatment in the huge and sumptuous spa, being the stressed pamper princess that I am.
So after an afternoon spent yomping through trees scaring ponies on a freezing but sunny late February day - and a night eating sensational food in the brilliant Hartnett Holder & Co restaurant (a joint venture between the sublime Angela Hartnett and the hugely-talented Luke Holder) - the following morning, it was time to hit Herb House, the supremely well-appointed and luxurious spa.
I plumped for the two-hour Ayurvedic Forest Escape treatment, as I've always been curious about ayurveda (Sanskrit for 'knowledge of life'), a 4,000 year old Indian wellbeing system. It's a mix of nutrition, herbal remedies, yoga and massage that aims to treat the whole body and spirit and Vishnu knows, both of mine need shedloads of healing.
After slipping on a cosy robe in the gorgeous changing area, my lovely therapist Sophie C took me through to the coolly chic treatment rooms.
We sit down and I fill out a lifestyle questionnaire (ie what skin type I am, how hard I work, personality, etc) as part of my 30-minute consultation to find out which 'dosha' I am ie which body and spirit type, of which there are three - vada, pitta and kapha.
Numbers are crunched and Sophie decides on which of the four 90 minute ayurvedic therapies will work best for me.
While I lie on a heated bed, Sophie uses delicious-smelling oils specially blended with herbs and spices in India for your particular dosha - for me, vata for face, pitta for body - and the most incredible massage I've ever had (the Tri-Dosha Forest Escape Ease apparently) begins.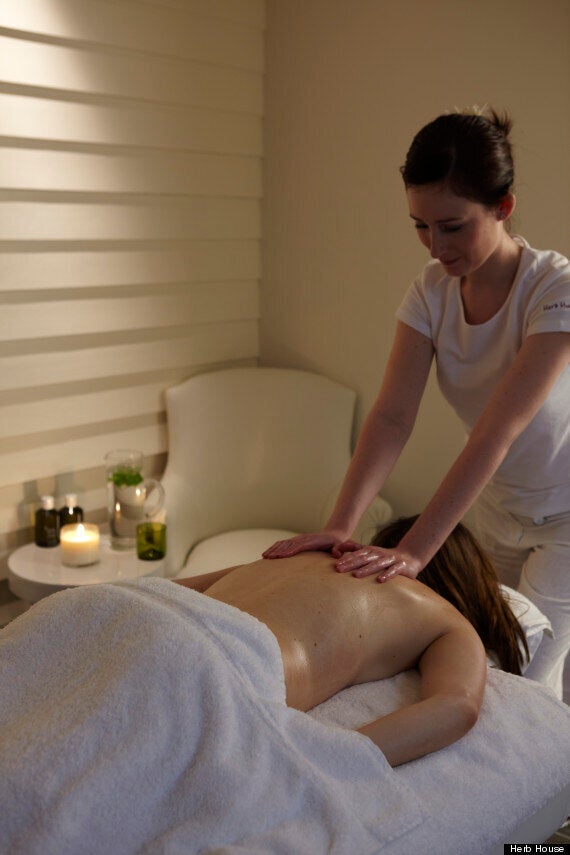 Using rhythms of three (for each dosha), Sophie firmly works her way around my aching, broken body from literally top to toe, interestingly, including even my chest and abdomen, which is possibly not for those worried about flashing their shirt potatoes - and finishing with a divine head and face massage. She even manages to knead out the knots in my shoulders and neck, asking me if I get regular headaches, which I do, and correctly predicting they always occur behind my right eye. This girl is AMAZING.
Afterwards, I float off to the relaxation area for my herbal tea and a cute little bowl of fresh pineapple and mango chunks feeling so blissed out, I'd have agreed to take a complete stranger's speeding points. The zen-like effect lasts for days too. It really is that good.
I am also given a print out of my fully personalised Ayurvedic mind and body plan explaining what doshas I am (Vata/Pitta split), what it all means, what kind of exercise I should be doing (pilates, which I do anyway and would love to do more than once a week but haven't the time), that I should meditate (fat chance) and do daily mental exercises to balance my "quick-witted but fiery nature" (!), what scents work for me (cedarwood - tick) and more. It's much pretty spot on.
I can't emphasis enough, this is worth every penny and more - and you could spend the whole day in the spa, with it's outdoor steaming hot pool overlooking the forest, incredibly effective hydrotherapy jet pool, huge indoor swimming pool, sauna, steam room, mud house, fully-equipped, state-of-the art gym and fabulous Raw and Cured cafe (featuring meats and fish smoked on site at Lime Wood) etc. That's £170 totally well-spent.
Never mind saving up to have this as a once-yearly treat, I NEED to win the lottery so I can come here and have this treatment every week. I'd be able to park my helicopter on the hotel helipad too. After all, it said on my Ayurvedic plan that I should "have a regular massage, at least once a month" - and who am I to argue with 4,000 years' worth of wisdom?
Two-hour Ayurveda Forest Escape £170. Lime Wood Hotel's Herb House Spa, Lyndhurst, The New Forest, Hampshire http://www.limewoodhotel.co.uk/pamper/