Arsenal manager Arsene Wenger must take some responsibility for the drop in form of goalkeeper Wojciech Szczęsny - according to the players' father.
Szczęsny was axed for the Champions League game against Bayern Munich last week, with Wenger claiming the 22-year-old had been "mentally affected" by the number of games played.
The Poland international was then put on the bench for the Barclays Premier League win at Swansea, where Lukasz Fabianski kept a second consecutive clean sheet, having excelled in Munich.
Szczęsny has joined up with the Poland squad ahead of their World Cup Group H qualifiers against Ukraine and San Marino, but Southampton keeper Artur Boruc is expected to be first choice, with Brighton's Tomasz Kuszczak providing support.
Maciej Szczęsny - who won seven caps for Poland and helped Legia Warsaw reach the quarter-finals of the 1995-96 Champions League - feels Wenger needs to look at how he handled his son, who has been hampered by a series of niggling injury problems.
In an interview with Poland's leading sport daily paper Przeglad Sportowy, the senior Szczęsny said: "Wenger already started to look for the scapegoat. It is not the way the boss should behave.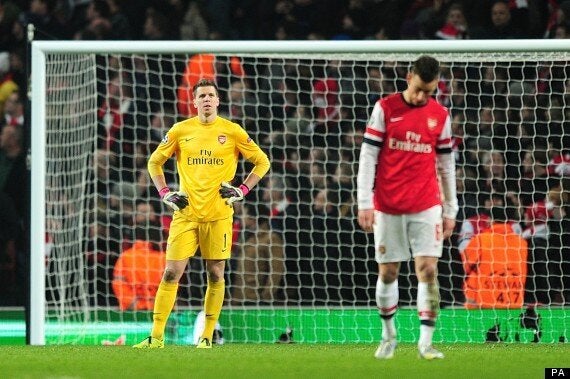 Szczęsny's form has been poor this season
"Wojciech has had two serious injuries. He played with one in April and May (last year). He shouldn't have agreed to play that time, but the coach insisted.
"Wojciech did not train the whole week and then a warm up on Friday and played the match on Saturday. He was naturally more susceptible to minor injuries and his form was going down.
"Wenger was playing with the young man's good health and Wojciech agreed foolishly.
"In my opinion Mr Wenger messed up a lot in April and May. I don't blame the young man who went along with his coach, his current lack of form is a result of those two months.
"Then in August there was a foot (ankle) injury after which he played almost instantly.
"After seven weeks out Wojciech trained for just seven days and played the match. How on earth can he be on his highest form?"
Despite taking Szczęsny out of the firing line and warning no-one can be guaranteed of a place in the team - not even captain Thomas Vermaelen - Wenger has said Szczęsny is part of his long-term plans, having brought the youngster through the Arsenal Academy after signing from hometown side Legia Warsaw in 2006.
Szczesny Snr is confident his son will soon establish himself as the Arsenal number one again.
"This last period has not been successful for Wojciech, the fact that Arsene Wenger did not take him to Munich shows something," Maciej Szczęsny added.
"However, I think my son can be the number one (Arsenal) keeper over 10 years, he just needs to come back to form and then a situation where we can stop to wonder who will stand between the posts."