Luis Suárez has alerted the interest of Europe's elite by admitting he could leave Liverpool for a Champions League team in the summer.
Suárez, who recently stated he was "extremely happy" at Anfield, trotted out a similar line during an interview in Uruguay when he added he was "very happy".
However the 26-year-old added he would "welcome" the chance to join a club with Champions League football to offer. Suárez has been in great form for Liverpool this season
"I am very happy at Liverpool but you never know in football," said Suárez, in comments reported by the Liverpool Echo.
"A player's ambition is always there, the ambition of wanting to play in elite teams is always there. I'm in a world-class team, an elite team like Liverpool. We have to realise we have a new manager who is imposing a philosophy and a way of playing that the players are adapting to as best we can. We hope it will bear fruit next year.
"If another team comes around with more prospects of competing in international club competition games, which is willing to have me, they are welcome. We would talk to the club. We would see if I want to go, if I don't want to go."
Currently in Uruguay ahead of the country's World Cup qualifier with Paraguay on Friday, Suárez has been in inspirational form for the Reds, scoring 29 goals in 40 games this season. He is also the top scorer in the Premier League with 22 strikes - three ahead of Robin van Persie.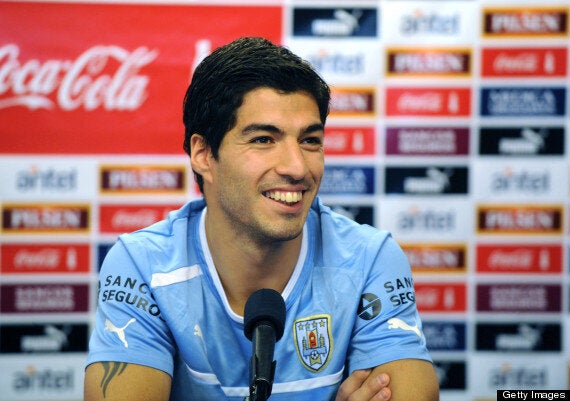 Suárez holds court at a press conference in Uruguay on Tuesday
Suárez signed a new contract with Liverpool last summer in what managing director Ian Ayre described as the club's "most important signing" in the Being: Liverpool documentary. Arguably the sole world-class player in Brendan Rodgers' squad, with Champions League football set to elude Liverpool again next season, the earliest opportunity Suárez would have of playing in the competition again would be in 2014, should he stay.
That would be almost four years since he last featured in the competition with Ajax in December 2010, a month before his £22m move to Liverpool.
On Wednesday, Juventus were again linked with a move for Suárez and Paris Saint-Germain are also interested in the striker. Most intriguingly, Suárez's agent, Pere Guardiola, is the brother of former Barcelona coach Pep, who will succeed Jupp Heynckes at Bayern Munich in the summer.
Ayre unconvincingly told the BBC Suárez's quotes "may have been a bit lost in translation".
Related