San Marino don't get win bonuses on the Earth-shattering occasion they actually win a game. This explains an awful lot. Sitting joint bottom of the FIFA world rankings and with a population of just 33,000, their team against England could feature an accountant, a bank clerk and a barman. Regularly humiliated, their lowest ebb was so low they must have wished they were six feet under when Germany ruthlessly obliterated them 13-0 in September 2006.
A European Championship qualifying record, it is unlikely England will come anywhere near to superseding the Germans. Traditionally, the Three Lions make hard work of defeating Europe's worst teams. Azerbaijan was a slender 1-0 victory, the 3-0 and 2-0 wins in Luxembourg as well as the 3-0 and 2-0 wins away to Andorra were unconvincing, and then there was the abject goalless draw with Algeria at the 2010 World Cup.
However here are five of the national side's biggest wins in qualifying outside of the country...
NORTHERN IRELAND 1-5 ENGLAND, EUROPEAN CHAMPIONSHIP QUALIFIER (1979)
Belfast's Windsor Park played host to an England team which included the likes of Peter Shilton and Steven Coppell, and the visitors went home comfortable winners thanks to two goals each from Trevor Francis and Tony Woodcock plus an own goal from Northern Ireland's Jimmy Nicholl.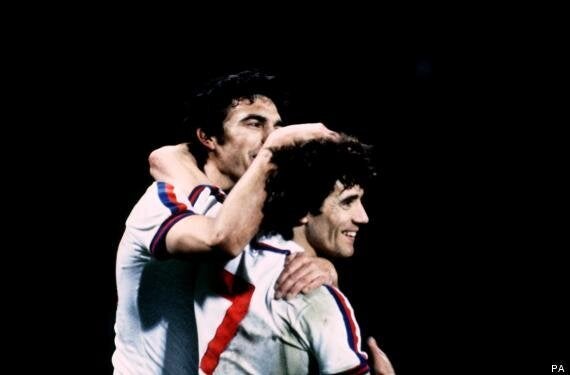 Trevor Brooking and Kevin Keegan celebrate one of the five goals
Ron Greenwood's team qualified for the finals, taking England through for the first time since 1968, but laboured performances in Italy meant they failed to advance from the first-round group stage.
TURKEY 0-8 ENGLAND, WORLD CUP QUALIFIER (1984)
Viv Anderson, the first black footballer to play for England, scored his first goal for his country as England thrashed Turkey at the Inonu Stadium, Istanbul.
Manager Bobby Robson was keen to win this World Cup qualifier off the back of the team's failure to qualify for the 1984 European Championship, and the goal from Anderson, two each from John Barnes and Tony Woodcock and a hat-trick from Bryan Robson ensured they achieved their mission in style.
SAN MARINO 1-7 ENGLAND, WORLD CUP QUALIFIER (1993)
Davide Gualtieri scored the fastest goal in World Cup qualifying history before England recovered for the most hollow of victories, as their World Cup qualifying hopes died. England needed to win by seven goals and hope that Poland would beat Holland, however their hopes were hit when Gualtieri scored eight seconds in after capitalising on an underhit backpass from Stuart Pearce.
England went on to score seven goals, with Ian Wright grabbing four, but Holland's victory made matters irrelevant. Manager Graham Taylor resigned days later after a barrage of criticism directed at him and his team.
GERMANY 1-5 ENGLAND, WORLD CUP QUALIFIER (2001)
England went to the Olympiastadion in Munich with qualification for the 2002 World Cup in the balance. Carsten Jancker poked in a German goal after only six minutes, but that served to motivate an England team brimming with creativity and confidence.
Michael Owen equalised and Steven Gerrard drove home a low long-range strike on the stroke of half-time. Owen scored twice more in the second half to complete a stunning hat-trick, with Emile Heskey completing the rout. Germany coach Rudi Völler's father suffered a heart-attack during the game.