"Model family, 2 kids, dad's a plumber, quiet estate, idyllic market town, definition of normal, and the mum... English rose."
Was that the pitch for 'Broadchurch'? Not quite, merely the slithery urban hack's selling the story to her editor. It worked for him, and it's still working for us.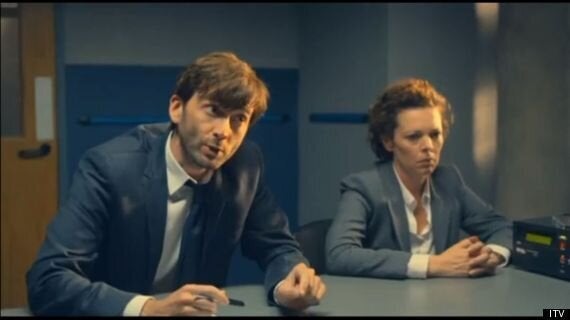 Detectives Hardy and Miller are nowhere nearer solving the crime of Danny Latimer's murder
Now Mark Latimer's crimes were proved to be merely those of infidelity, not murder, it was time to look further afield.
Who Do You Think Killed Danny Latimer?
And there was a lot to look at. While the newsagent Jack Marshall's dodgy past was uncovered, Susan and Mark's colleague Nige were doing a better job of keeping their own dealings and unwilling alliance under wraps. Anything to do with Danny Latimer's skateboard, still sitting snugly in the wardrobe of Susan, played with convincing creepiness by Pauline Quirke?
This week's acting points went to Will Mellor, increasingly unrecognisable as the misunderstood savant, intent on sharing his mystical secrets. But my money's still on the vicar, despite his intense sermon in the moving church service for Danny. For now, anyway.
Despite all the detection, the best scene of the night was surely when DI Hardy (David Tennant) was forced to endure the social horrors of dinner round at DS Miller's. "Shall we use first names?" she suggested. "I've never seen the need for such false intimacy," he answered. How the hours flew by after that.
Popular in the Community