Lewis Hamilton was left apologising to Mercedes for a pit-stop gaffe that left McLaren team principal Martin Whitmarsh with a smile on his face at the end of another tough day.
Making his first stop after six laps, Hamilton headed into McLaren's pit box, clearly forgetting after 13 years with the Woking-based marque he had switched to Mercedes earlier this year.
The 28-year-old had to be waved through by the McLaren crew before finally taking on new tyres with his own team.
Explaining his actions, Hamilton said: "I'm so used to stopping at McLaren, it just happened. I don't know how I got it wrong.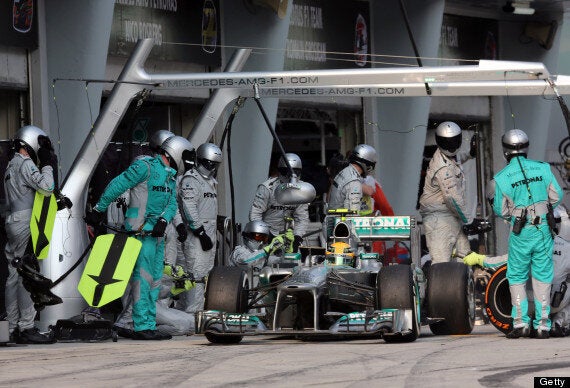 Hamilton still made third despite the blunder
"I did a Jenson (Button). He did that a couple of years ago, but big apologies to the team."
At least Whitmarsh could see the funny side as he said: "Well at that stage of the race I was laughing.
"I still have a very good relationship with Lewis and I'm sure I'll give him a bit of grief about it."
Despite the blunder, Hamilton went on to finish third behind feuding Red Bull duo Sebastian Vettel and Mark Webber, although his podium place was not without incident.
Duelling with team-mate Nico Rosberg after the final pit stops 14 laps from the finish, the German was told by team principal Ross Brawn to hold position even though he was far quicker than Hamilton. Hamilton was sheepish about his podium place at Rosberg's expense
The 28-year-old could not then hide his embarrassment on the podium, and again in the post-race press conference, believing he had robbed Rosberg of his rightful place.
The air was cleared in the team meeting that followed, with Hamilton stating: "We had a big team talk and everyone was fantastic.
"I said to Ross I should have let him past, but he said 'absolutely not. When I tell you this is what I want you to do, you have to stick by it'.
"So I'm glad I stuck by it and didn't get into trouble in that sense, but hats off to Nico - he did a fantastic job and was driver of the day for me."
Rosberg, however, was still far from happy, reiterating his comment over the radio when he pulled into parc ferme after the race for the team not to forget his generous gesture.
"It was a reminder to them to remember that I played the game," said Rosberg.
Popular in the Community