Mark Webber will use the next two weeks to take stock of his Formula One career as the rift with Red Bull team-mate Sebastian Vettel grew increasingly fractious yesterday.
Webber was left seething after Vettel deliberately ignored team orders to take the chequered flag at the Malaysian Grand Prix, and for the 27th time in his F1 career.
Leading at the fourth and final pit stop 13 laps from home, Webber and Vettel were under instruction to hold station to the line.
Reigning world champion Vettel, however, tarnished his reputation as he blatantly defied team principal Christian Horner and went on the attack.
The duo, who previously clashed in the 2010 Turkish Grand Prix when Vettel attacked Webber only to crash out of the race, went wheel to wheel before the 25-year-old German passed the Australian on lap 46.
In the green room, where the top three drivers cool down post race, on the podium and in the main press conference the tension between them was palpable.
Although Vettel apologised it cut no ice with Webber who, when asked whether the situation had made him consider his future with the team, and in F1 on the whole, Webber said: "My mind in the last 15 laps was thinking that many things, yes. Many, many things." Webber and Vettel awkwardly stand side-by-side on the podium
As to how Webber will respond to an order in the future should he be in a position where he is chasing Vettel for a win, he said: "That question is not going to be answered right now.
"Let's just say there were a lot of things going through my mind in the last 15 laps of the grand prix, lots of different reasons, not just from today but also from the past.
"We'll see what happens. We've got three weeks before the next race (in China on April 14).
"Right now it's very early days, it's very raw, but we need to work out how the team best goes forwards from here.
"That's obviously going to be discussed this week. I will be in Australia on my surfboard, the phone won't be engaged, so let's see what happens."
Vettel, who had initially shown no remorse for his selfish actions when interviewed on the podium, changed his tune several minutes later when he fielded questions in the press conference.
"I can see now he (Webber) is upset, but yeah, I at least want to be honest and stick to the truth and apologise," said Vettel.
"I know it doesn't really help his feelings right now, but I should have behaved better.
"As I've said, I didn't do it deliberately. I didn't realise I had made a mistake. It was only when I came back and saw the team's reaction I realised."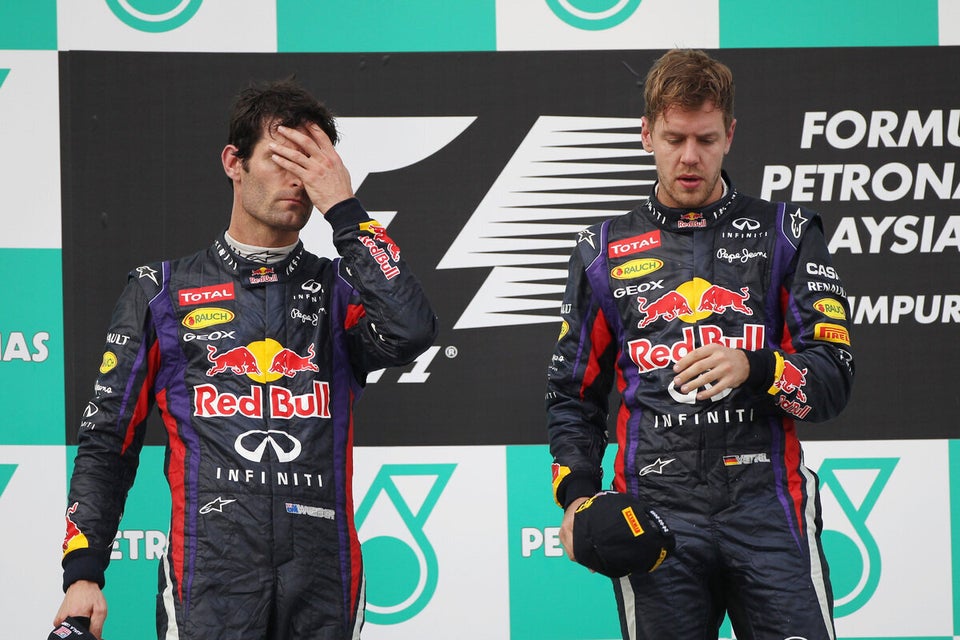 Marc Webber and Sebastian Vettel