A reality TV contestant has died of a heart attack on a tropical Cambodian Island.
The man fell ill on Friday during the first day's filming on Koh Rong, off Cambodia's southwestern coast.
The broadcaster said Babin had a medical examination during the show's selection process, like other contestants.
According to Cambodian police there were no suspicious circumstances.
"There will be no further investigation because he died from a heart attack," local deputy police chief Kol Phally said.
The network and production company released a joint statement reacting to the sad news. "Adventure Line Productions, TF1 and [host] Denis Broginart are devastated and join in the profound sadness of Gerald's family."
This isn't the first time someone has died during the filming of 'Survivor'.
In 2009, a contestant on the Bulgarian version of the show died of a heart attack during filming in the Philippines. And in the same year, a participant on the Pakistani adaptation drowned in Thailand.
The British version of 'Survivor' first aired in the UK on ITV in 2001 from the Malaysian island of Pulau Tiga, in the South China Sea.
It was initially on four times a week, presented on some days by now ITV news reader Mark Austin and on other days by John Leslie.
However, ITV later decided to air fewer episodes per week to give the show a greater opportunity to "grow".
After two series the show was axed and ITV created 'I'm a Celebrity...Get Me Out of Here!' to take its place, with many similarities to 'Survivor' but with many more viewers.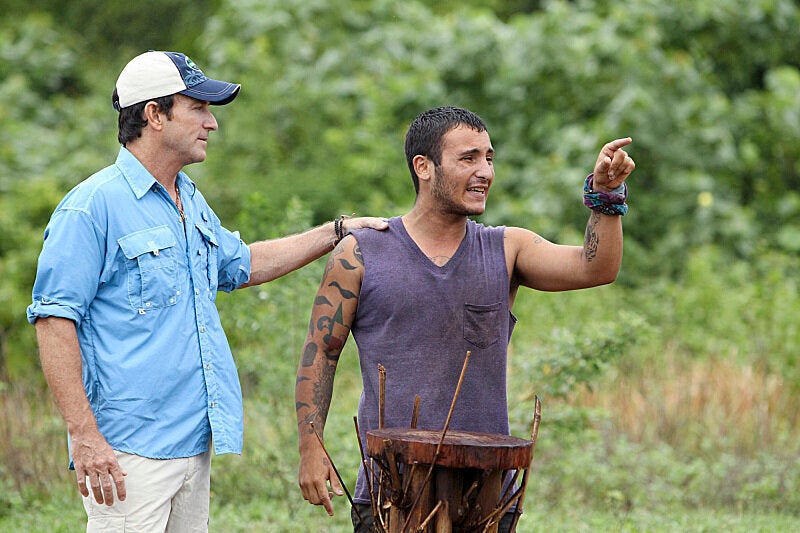 'Survivor: Caramoan'
Popular in the Community