A kitten born with a cleft palate, leaving him with the appearance of having no nose is now in training to be a therapy pet.
Malnourished and sickly, Lazarus was found wandering the streets of Tennessee in September, Catster reports.
He was taken in by Cindy Chambers, a special education faculty member at East Tennessee University.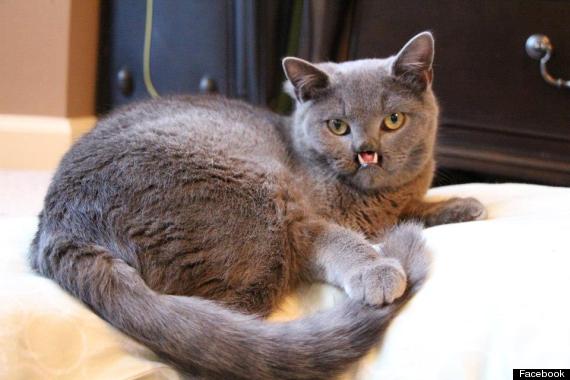 Lazarus was found malnourished, sickly and wandering the streets of Tennessee in September last year
Fearing the worst, she rushed Lazarus to the vet, but despite a number of severe infections, the 10-week-old kitten pulled through and is now in rude health.
Chambers funded surgery for Lazarus, who had his canine teeth removed and the infection cleaned from his mouth and nasal passages, via an online donations page.
SEE ALSO: Schnauzer Doctor Ralf Is Patients' Best Friend At Royal Children's Hospital In Melbourne
Affectionately branded "God's littlest vampire" by Jezebel, Lazarus now lives with Chambers's seven other dogs and cats and is the star of his own Facebook page.
Chambers said: "Day to day, he's just like any other cat. He's rambunctious, he plays, he cuddles - he does all the things every other cat does."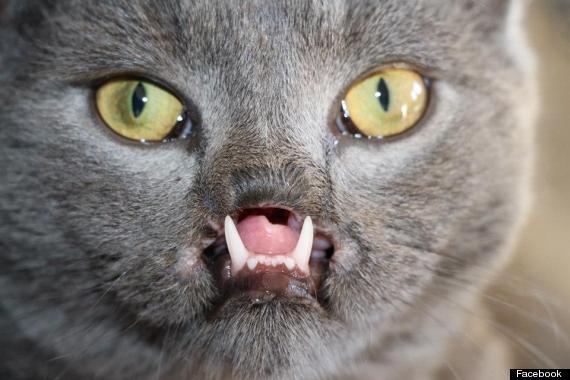 Lazarus is in training to be a therapy cat and to help people gain a better understanding of disabilities
"My hope is that through meeting Lazarus and hearing a little bit about the other work I do, people can apply those beliefs to people with disabilities.
"You immediately feel some kind of connection with Lazarus because he has such a great personality and he's just so loving. His disability really isn't a focus. He's just a really awesome cat."
Speaking to Life With Cats, she added: "Lazarus, he can be a really unique tool for helping children without disabilities understand differences and similarities and how we're really more alike than different. And he can also be used with, let's say, children who have cleft palates and kind of watching his process and feeling some type of connection with this kitten."