McFly drummer Harry Judd has revealed that he's suffering from a heart condition, just weeks before he's set to run the London Marathon and compete in the intense Tough Mudder Challenge.
Taking on Twitter, the 'Strictly Come Dancing' winner announced he has acquired an ectopic heartbeat through excessive exercise.
But in the posts below he reassures his fans and supporters that he will still run the marathon on 21 April 2013 to raise money for The Teenage Cancer Trust and his wife Izzy Johnston's appeal Eyes Alight (BIRT):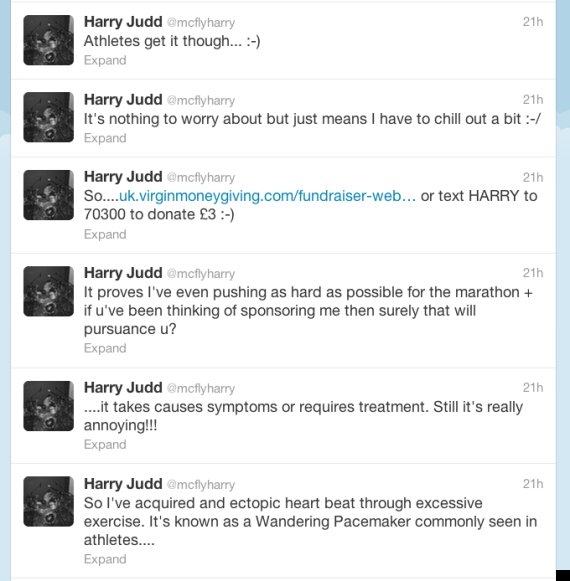 In an interview with The Huffington Post UK recently, Judd said he's not trying to punish himself by taking on two extremely challenging endurance races in the space of two weeks: "It was my idea, it's a good way to raise money for charity and I kind of enjoy it... it's not like a fetish or anything."
He added: "I'm trying to become more manly, but I'm actually terrified that I'm going to fail miserably and it will probably clarify the fact that I'm not manly at all... I just get so cold so easily."
Harry is running the London Marathon this year in aid of Teenage Cancer Trust and The Eyes Alight Appeal. To support him, visit his Virgin Money Giving page or text HARRY to 70300 to donate £3.