It may be springtime but Paris sizzled ahead of its team's rendezvous with one of club football's greatest sides. The more sophisticated Parisian youths populated the chic restaurants and discussed Zlatan over wine, while the earthier contingent savoured the sunshine and suspense in the bars opposite the nearby église.
After Qatari Sports Investment bankrolled £200m worth of talent, Paris Saint-Germain are perhaps the most expensive underdog in European football. Barcelona offered the first major test of the Qatari-owned era, but there was no hint of nerves amongst PSG's supporters. They had not played at this stage of the Champions League since 1995, and whereas Lyons had previously enjoyed French football's acclaim on the continental stage this century, Tuesday was treated as a celebratory changing of the guard.
The event was in jeopardy of becoming frivolous when it was announced David Beckham was starting. His transfer deadline day move warranted scepticism, and some suggested that applied to his selection on Tuesday evening. A match between two clubs with Qatari links with a large global audience, it was inevitable the most recognisable sportsman in the world would be involved, despite his limitations. PSG's inauspicious chances of succeeding, as if this was an innocuous stepping stone, fuelled the cynicism. Carlo Ancelotti, a European Cup winner twice as a player and twice as a manager, wasn't resigned to defeat.
Beckham turns 38 in May, and age has afforded him his favoured central midfield role. It is an experiment Sven-Göran Eriksson memorably opted for in Northern Ireland, as his captain distributed effortlessly yet classily. Beckham always maintained at Manchester United he preferred to be in the centre rather than on the right, but Roy Keane, Paul Scholes and Nicky Butt were unmoveable obstacles.
Keane watched on pitchside as part of ITV's coverage, his enthusiasm for watching football still as fierce as one of his tackles. He was at Wigan on Saturday, Villa Park on Sunday and Chelsea on Monday. It is a shame his former teammate's passion for the game has been marred by the celebrity circus.
"Everybody likes Beckham," said the Parisien taxi driver at Gard du Nord, who was staggered by the amount of paparazzi that greeted Beckham outside of a restaurant recently. The fanfare around the city has obviously subsided since his unveiling on 31 January, and Beckham has graciously accepted he is just another cog in the expensively-assembled machine. When the PSG team was announced, with the MC inviting supporters to holler the players' second name, "Beckham" – last by number – wasn't yelled with the gusto it has been aired at Old Trafford or Wembley. Surreally, PSG fans sang to the tune of Flower of Scotland prior to kick-off, rather than God Save the Queen.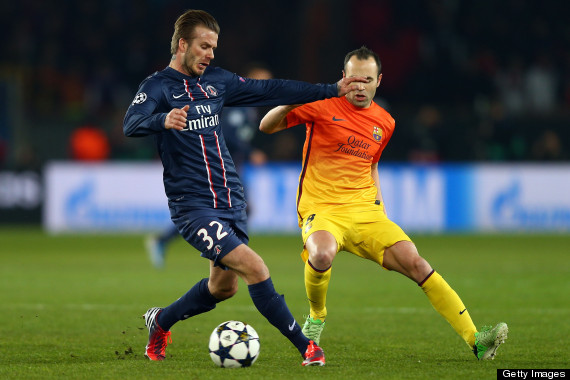 "Competent, yet unremarkable"
He was competent if unremarkable against Xavi, Andrés Iniesta and Sergio Busquets. Rarely did he cede possession but he was unable to effect the game, able to pass but struggling to move. Gerard Piqué's desperate lunge on Zlatan Ibrahimović just outside the area may have surged Beckham's adrenaline ahead of a dead-ball opportunity, but Ibrahimović had dibs on the free-kicks as the number 32 had to settle for the corners. Beckham even admitted when he joined in January, "Zlatan will take the free-kicks."
For an infamously fickle set of supporters the Parisians were patient with Ibrahimović. At the Stade de France, the football and rugby teams have endured some torrid treatment from the home contingent when underperforming but the Parc des Princes is a less haughty environment. They would be rewarded by their talisman.
Ibrahimović's touch often deserted him and he was too slow to react to the cobra-like judgement of the Barça defenders, comfortable in one-on-one situations with their former colleague. The match was at the risk of becoming dominated by defenders, with the imperious Thiago Silva at the other end re-affirming his status as world football's best central defender. Alas the ebullient Dani Alves' aesthetic pass for Lionel Messi's opener was a privilege to witness in person.
Physically, Beckham was fine for the majority of the 70 minutes he played but his tiredness led to an obvious yellow card. He gave a generic display but one which suggested his five years in the MLS retirement home were wasted when he could have added gloss to an already sparkling career. It was telling though that his withdrawal signalled greater urgency from PSG, whose two equalisers came after the introduction of Jeremy Menez, Verrati and Gameiro.
Barça, like all great sides, are not liked, and it is not because they almost always win. Their play-acting generated the loudest whistles as the usual suspects – Alves and Busquets – went through their usual repertoire of conning officials. Alves was arguably the outstanding player on show, but like his team he butchers his brilliance. His booking for dissent was greeted like a goal. Matuidi equalises with the last kick of the game
Schadenfreude was had when Valdes inexplicably allowed Blaise Matuidi's shot to pass through him for a 2-2 draw. PSG deserved a draw. Ancelotti was bold with his substitutions and they had caused their visitors anxiety in the second period after a relatively reticent opening 45 minutes.
Walking away from the Parc des Princes, the youths on their motorcycles and mopeds sounded their horns gleefully. PSG may fail to progress past Barça but they had still passed the test.