Giant globules of fetid kitchen grease called "fatbergs" blocking London's sewers are to burned at the world's biggest fat-fuelled power station.
Waste fat washed down sinks from homes and restaurants is a major problem for Thames Water who spend around £1 million each month unblocking clogged sewers.
The fat congeals with wet wipes, condoms and dead rats to form a mush that can only be removed with a good old-fashioned shovel.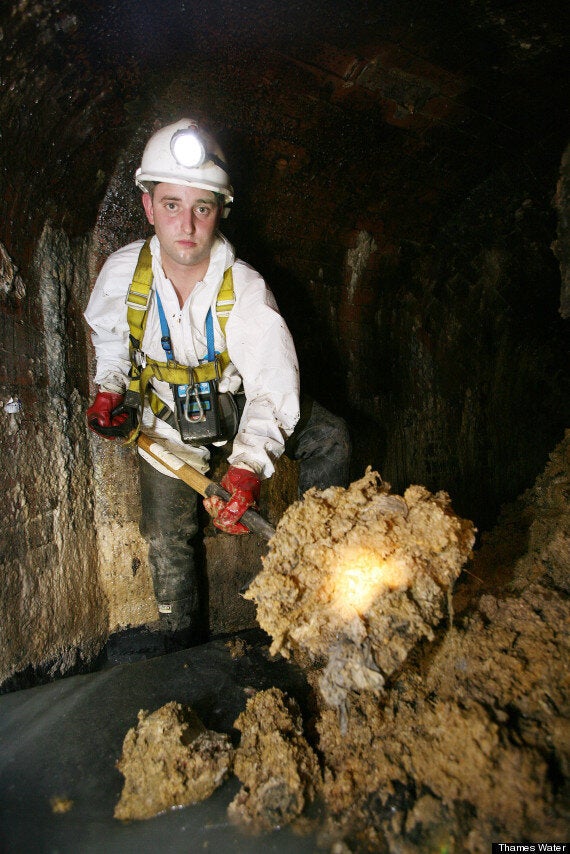 Thames Water sewerman Danny Brackley under Leicester Square clearing fat
The Huffington Post's very own Archie Thomas filmed the fatbergs in 2010. He described the smell, obviously still quite vivid in his mind even two years later.
He said: "The smell was overpoweringly 'chemically'. Frankly, I wish it had smelt like shit.
"And when we went down the edge was apparently 'taken off' by the feint aroma of Radox - it was soon after London's shower time.
"I felt right again after three showers."
In just one night teams can remove enough material to fill nine double-decker buses, reports Londonist.
But in a deal worth £200m a company called 2OC will run the power station in Beckton in east London, which will generate 130 Gigawatt hours (GWh) of energy - enough to power 39,000 homes.
Seventy-five GWh will be sold to Thames Water to power a desalination plant and sewage works nearby.
Piers Clark, commercial director for Thames Water, said: "This project is a win-win: renewable power, hedged from the price fluctuations of the non-renewable mainstream power markets, and helping tackle the ongoing operational problem of 'fatbergs' in sewers."