Manchester United's commercial power intensified on Sunday night when the club announced it had signed an eight-year deal with current shirt sponsors AON for the naming rights of their Carrington training ground, worth an eye-watering £150m.
From 1 July, Carrington will be known as the 'AON Training Complex' and forms a central part of a wide-ranging deal which also includes sponsorship of United's training kit, their annual summer tours and friendly matches.
However, United have said that they will never sell the naming rights to Old Trafford. "Old Trafford will not be sold," United's executive vice-chairman, Ed Woodward, said on Sunday.
AON's deal as the Red Devils's shirt sponsor expires next season, with Chevrolet contracted to have their logo emblazoned on United's kit from the 2014-15 campaign. The Chevrolet partnership is worth a staggering £357million over seven years.
Exposure on training kit and at Carrington guarantees AON's logo will appear prominently during manager Sir Alex Ferguson's press conferences.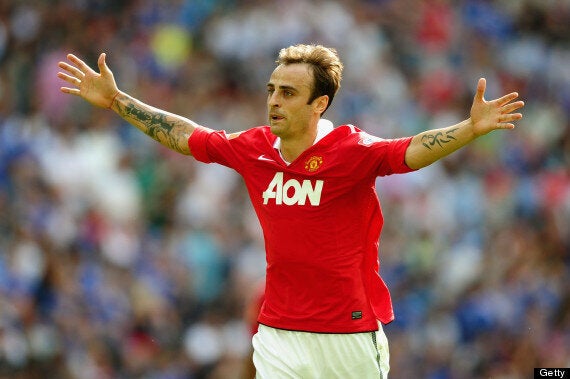 AON have been United's shirt sponsors since 2010
In 2011 United signed a four-year, £40m deal with DHL for the international express mail service to sponsor their training kit, but AON's prolonged partnership with the club has dwarfed that figure. DHL's deal will end early at the conclusion of the current campaign.
"The first phase of our sponsorship was concerned with brand awareness of AON as a commercial business," an AON source told Press Association Sport. "The second phase is about creating a global understanding of the capabilities that we provide for clients around the world."
The loathed Glazer family, who have saddled United with over £800m worth of debt since their takeover in 2005, have however ramped up United's sponsorship deals to a lucrative degree in that time.
United, 15 points clear at the top of the Premier League table, boast savoury snack, paint, noodles and motorcycle partners amongst their 31 sponsors.