Champions League qualification and the relegation battle have taken precedence in the Premier League since mid-February, and thanks to Aston Villa's victory at Stoke City, the Potters have found themselves in the quagmire which Queens Park Rangers just can't get out of.
Harry Redknapp's man-management, Typical Tottenham and a dosage of irony for messrs Di Canio and Gerrard are just some of the weekend's Premier League talking points...
Roberto Martínez's risible defence of Callum McManaman's potential leg-breaker on Massadio Haïdara three weeks ago, in which he trotted out the "not that type of player" cliché, was fresh in the memory when the Spaniard condemned Bobby Zamora's effort to decapitate Jordi Gómez on Sunday.
"It was a horrific challenge," Martínez opined. "I know Bobby Zamora is not a dirty player but Jordi Gómez is very fortunate - he could have been majorly injured."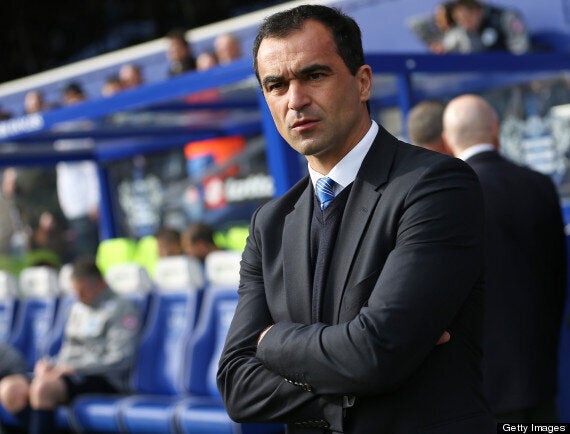 Of McManaman's tackle, he said last week, "It was a challenge with no real intent. It was an unfortunate incident that happens on a football pitch." Dave Whelan's logic is infectious.
HOW NOT TO DO MAN-MANAGEMENT
"I need lifting, I don't know how I'm going to lift them," Harry Redknapp admitted. His chairman, Tony Fernandes, said in his HuffPost UK blog last week he had "one of the great English managers of this or any other generation". A grave overstatement for a manager facing a second relegation of his career, he should expect a better motivator however deflating Shaun Maloney's equaliser was. Instead Redknapp did a passable impression of Captain Edward Smith. KEEPERS THE DIFFERENCE BETWEEN READING AND SOUTHAMPTON
Prior to their lunchtime fixture on Saturday, both Reading and Southampton had started three goalkeepers in the Premier League this season. Nigel Adkins' naivety could be gauged by him beginning Southampton's season with Kelvin Davis in goal, seven years after he was utterly hopeless between the sticks for Sunderland in 2005-06. Paulo Gazzaniga was awful too, and it was not until Adkins settled on Artur Boruc in the new year that the Saints have looked reasonably secure.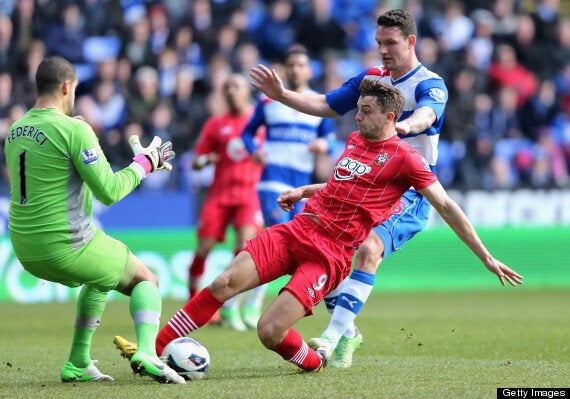 Federici shirks the challenge as Rodriguez scores
Reading meanwhile do not possess a goalkeeper of top-flight class, and Adam Federici re-emphasised that when he feebly allowed Jay Rodriguez to score the opener. Adkins, now managing the blue and whites rather than the red and whites, complained about a foul when he would have been forgiven for lamenting his predecessor, Brian McDermott. The lack of transfer activity in January has cost the Royals their Premier League status next season.
TOTTENHAM HAND ARSENAL THE INITIATIVE
For all the hysterical hype surrounding Gareth Bale's absence, Tottenham faced an Everton side bereft of their own top scorer in Marouane Fellaini, as well as Steven Pienaar. Yet predictably the Toffees excelled at White Hart Lane, as Spurs' springtime tensions resulted in more points lost as Arsenal made up more ground on their rivals. Without not only Bale but Aaron Lennon, they are a team devoid of threatening pace, and the early season worries about their squad's depth are evident. Sandro's injury, and the return of the nondescript Scott Parker, was the first warning signal. Tottenham get that Europa feeling
At West Brom the previous day, Arsenal held on for an invaluable win with 10 men. It was the kind of victory they seem to grind out only after any hope of silverware has been dashed, but it was another ominous sign for Tottenham, who have won just once since their north London derby victory last month. The Gunners, one point behind, with a game in hand and a more favourable run-in, are now favourites to claim fourth spot.
"How silly you are," Paolo Di Canio replied to a question about his Mussolini tattoo after Sunderland's 2-1 loss to Chelsea. How ironic, and how silly is he, to have had a tattoo of one of history's most infamous fascists.
"Silly", "ridiculous" and "pathetic" are the three memorable adjectives the Italian has used to describe those who have brought up his political allegiances. It was Di Canio, of course, who said in 2005, "I'm not a racist, I'm a fascist," and he is going to have to become accustomed to the questions until he properly addresses the issue. "I know what you're thinking. The red tie was a bad idea."
He added he wasn't the "same person as 10 years ago", which was a step in the right direction. But less than a week into his new job, he is specialising in the "management by hand grenade", Swindon Town chief executive Nick Watkins described his time at the Country Ground as.
It was impossible to suppress a chuckle at the BBC's Ian Dennis suggesting Steven Gerrard "is not the type of player" to go down easily. A quick Google or YouTube search will provide photographic and video proof suggesting otherwise, and ironically, it was perhaps Gerrard's reputation as a diver that deprived him of a certain penalty against West Ham.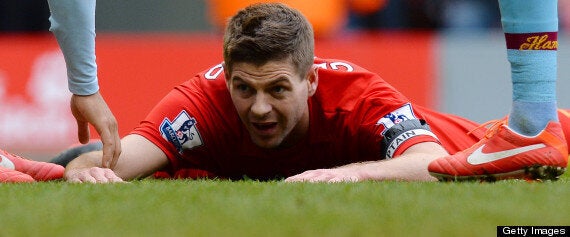 "I've won them for less."