Michael Johnson believes it is too early to judge the London 2012 legacy amid concerns the Olympic spectacle will not keep its vows.
John Amaechi, one of Britain's most famous basketball players, last month dubbed the much-talked about legacy "b******s", while confusion still surrounds the initiative eight months since the closing ceremony.
However four-time Olympic gold medallist Johnson, back in the United Kingdom to launch a partnership between Perform, part of Spire Healthcare, and Michael Johnson Performance to run training camps at the state-of-the-art St George's Park, was unconcerned about the British public's qualms. Having had the privilege to have competed in a home Olympics at Atlanta in 1996, he appreciates the significance of last summer to Britons.
"You can't judge a legacy eight months after the event, these things take years to implement," he told HuffPost UK Sport.
"Where the Olympics brought such a feel-good atmosphere to the country, it's understandable people are anxious, but you've got to show patience if you want to get it right. The Olympics' organisation in London was very good because it was pre-planned over a number of years."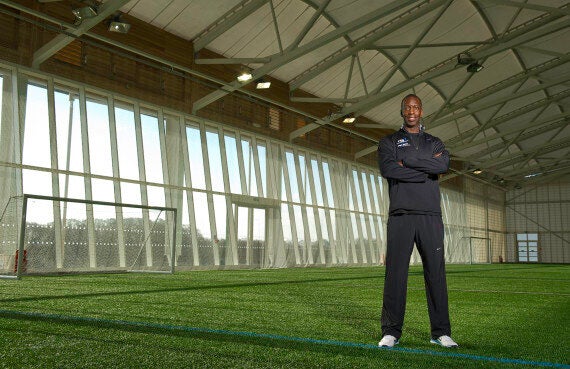 Johnson at St George's Park
The Perform and Michael Johnson Performance training camps are open to athletes and school children alike, and includes Manchester United and Arsenal amongst its clients. Focusing on developing and improving athleticism in "speed, strength, power and agility", the 45-year-old lauds St George's Park as an "inspiring" venue for aspiring athletes.
The superhuman level some athletes have reached in the decade since his retirement after the Sydney 2000 Olympics does not surprise Johnson, who comments "records are broken every 10 or 15 years. The progress is kinda natural".
The issue of doping has however become a more pertinent topic not only in light of Lance Armstrong's new year confession but the possibility that London 2012 triumphalists could still be found to have tested positive during the 30th Olympiad.
Çakır Alptekin, the women's 1500m champion, faces a second potential ban from sport after blood "abnormalities" were discovered during her biological passport testing.
Johnson suddenly sounds prickly when the topic of doping is brought up, albeit out of weariness rather than ignorance.
"I get kinda tired with questions about doping because it's a subject I've spoken about for many years," he stresses.
"Doping has been going on for quite some time, so it's nothing new. I get it's a big topic again but it's important to be this vigilant all the time."
An erudite and insightful pundit for the BBC during last summer's Games, Johnson was memorably caught on camera celebrating Mo Farah's 10,000m win on the unforgettable Super Saturday with Denise Lewis and Colin Jackson. So was that his highlight?
"Oh man, that was embarrassing," he chuckles in reference to the BBC filming his reaction. "I was delighted for Mo - it was all about Mo - but I was actually cheering for Michael Rupp finishing second because we used to work with him [at Johnson's management company]. Nobody expected that, only one American had ever won a medal in the 10,000m."
One of London 2012's stand out moments was Oscar Pistorius becoming the first double leg amputee to participate in the Olympics, however the South African's career and reputation have been damaged by the alleged accidental shooting of his girlfriend Reeva Steenkamp.
Pistorius is eligible to compete in athletics tournaments having been granted bail, but Johnson is unconvinced he will return to the track competitively.
"I imagine if he did return, he would get a mixed reception from the crowd," Johnson says. "He's been through an awful lot and no one really knows what frame of mind he is in, so it's a bit optimistic to expect him to come back so soon."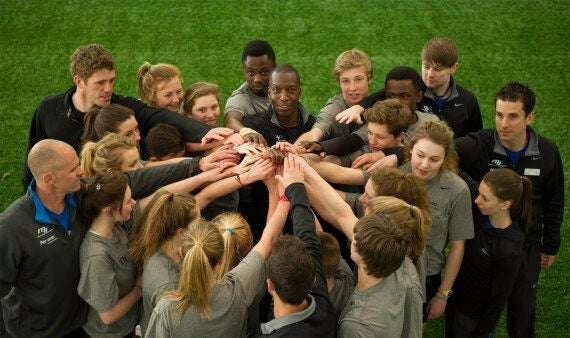 Perform, part of Spire Healthcare and the official healthcare provider for St. George's Park, has partnered with Michael Johnson Performance to offer performance training services to elite athletes and schoolchildren. Find out more at spireperform.com or www.facebook.com/performstgeorgespark