Guan Tianlang will become the youngest competitor at the US Masters' 148-year history this week and has already made it a memorable event before golf's premier major has even begun after a round with Tiger Woods.
The 14-year-old approached Woods at the driving range on Monday for an autograph, only for the pair to embark on a practise round of Augusta's back nine along with Dustin Johnson.
"He hits it good,'' world no.1 Woods said. "I showed him a few of the pins, helped him a little bit. The kid is 14. He's good. We had a good time.''
Guan secured his place at Augusta by winning the Asia-Pacific Amateur Championship in Thailand last year but admitted he will do "pretty much all" of his homework while in America.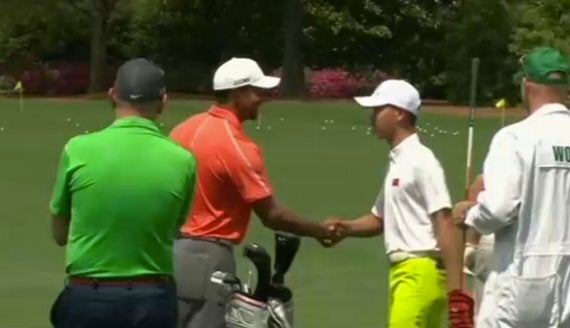 Woods greets Guan at the Augusta driving range
"I'm really excited in the morning when I come out on the course and there's many people here and I'm really looking forward to the tournament," said Guan, who will also play the traditional par-three contest on Wednesday with three-time winner Nick Faldo.
"I'm not going to push myself too hard and I'm going to enjoy my game. Hopefully I can play well."
Guan had already played with Woods in a pro-am in his native China and confessed the 14-time major winner was a hero of his since he was an infant.
"When I was three or four years old I was looking at him (Woods) winning the Masters and it's pretty exciting to watch him," Guan enthused. "I played with him twice in the past couple of years and he gave me a lot of advice. Every time I play with him I feel a lot better and give myself some confidence."
Related