Shin Bet is the highly secret, highly powerful intelligence arm of the Israeli security service. Six living chiefs of the department exist, and they have never spoken until now. For his Oscar-nominated film 'The Gatekeepers', director Droh Moreh got them all to talk about Israel's war on terrorism, and why they no longer believe it's the solution. How did he persuade them to speak?
"When you're speaking to men who have been keeping secrets all their lives, the task becomes one of getting them to stop," he laughs.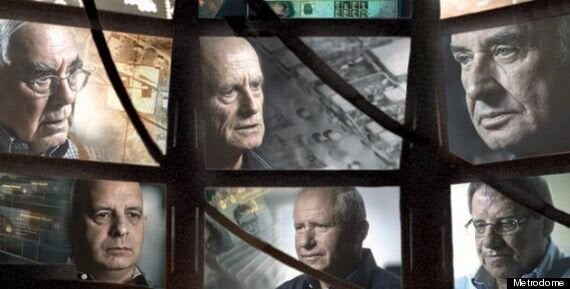 These six men have never spoken in public before, and have much to say about the past and the future
"There were moments when they tried to justify themselves, explain their actions but, at the end of the day, they came to the film because they had spent the better part of their lives protecting the state of Israel and none of them believe it brought Israel into a better reality.
"So when they are speaking, they're really saying, 'enough of the occupation, it's bad for Israel.'"
According to Moreh, these six men hold unexplained grudges against each other, although they all share an admiration for the oldest of their number, the implacable Avraham Shalom. So what do they have in common?
"They are practical people, they are not illusional," explains Moreh. "Each of them was asked by the prime minister to lead Shin Bet, because they were considered the best soldier at the time.
"They see they used every measure of force to suppress terror, they have been there, they were in the elbow of each prime minister, giving advice and seeing incompetence or whatever.
"And they love Israel. All of them are the biggest patriots of the state of Israel."
None of the six men are hopeful that there is a solution for Israel with the current policies in place
'The Gatekeepers' is a powerful film, with all six men chilling in this practicalism, but almost poetic in their aspirations, interspersed with footage of the modern history of Israel.
"The mission was to move people, to challenge the basic concept of Israelis," muses Moreh.
"The message is that you cannot win a war with only tactical or forceful or intelligence or army methods. You have to deal with it politically and go to the roots of the conflict - I'm not saying it's possible, but you have to TRY. Without it, you are looking at a cycle of violence. Maybe it's not solvable, but the intention should be there. You have to solve these disputes from the bottom up, and not try to put a plaster on a big wound."
Moreh is evidently a passionate activist for change himself, something he proudly claims, but admits he feels bleaker about the prospect for peace than he did before.
"These men see the solution, but they also see the fallibility of the leaders on both sides, who don't have it within themselves.
"Those who had it within themselves were either assassinated (Yitzhak Rabin) or taken away (Ariel Sharon, with a debilitating stroke).
"Only Sharon could carry the burden on his very wide shoulders, he could take away the boulders because he built them. But those people weren't able to finish their jobs."
'The Gatekeepers' is on limited release in the UK from Friday 12 April. Watch the trailer below...