David Moyes has bizarrely criticised on-form Everton attacker Kevin Mirallas, insisting the Belgian needs to toughen up.
Moyes, who has singled out attackers in the past for public flak, questioned Mirallas's durability despite two superb solo goals against Stoke City and Tottenham Hotspur recently.
Mirallas has picked up five injuries since he joined Everton from Olympiakos for £6m in the summer, spending a combined time of roughly two-and-a-half months on the sidelines.
He has however scored four goals in his last six games, making the timing of Moyes's critique unusual.
"He's had a lot of niggles," Moyes was quoted as saying in the Liverpool Echo. "He's nearly not quite adapted to what the Premier League means and how the games go.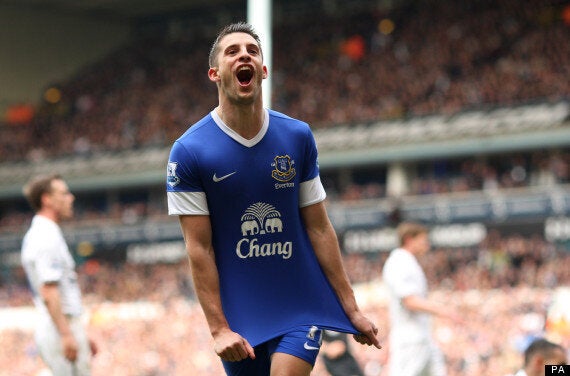 Mirallas celebrates his brilliant goal at Tottenham on Sunday
"I look at him and he's signalling to me with 15 minutes to go - so maybe he's not quite got what's required at Everton or the Premier League.
"What he has got in abundance though is pace, ability, he can score goals, he can take you on and he can play in two or three different positions."
Diniyar Bilyaletdinov, Everton's mercurial Russian midfielder, was often subjected to frank analysis from Moyes before he left the club in 2011. The Russian fired a parting shot ahead of his transfer to Spartak Moscow when he said Everton had "problems with creating scoring chances".
Bilyaletdinov produced just nine goals and nine assists during his two-and-a-half-years at Goodison Park, but his father Rinat opined he had "stagnated" due to Moyes's supposed negativity.
"If he [Moyes] had got more out of his defensive players, then his creative players wouldn't have dropped off so much in recent years," Rinat Bilyaletdinov said.