Golf's godfathers Jack Nicklaus, Arnold Palmer and Gary Player were the honorary starters on the first day of the US Masters at Augusta.
Boasting 34 major successes and 233 years between them, the trio were in fine fettle, with 77-year-old Player again hitting a drive which the rest of the field would be more than happy with.
Player joined Nicklaus and Palmer as honorary starters for first time last year and the South African repeated his feat of 12 months ago, finding the right-hand side of the fairway some 250 yards from the tee.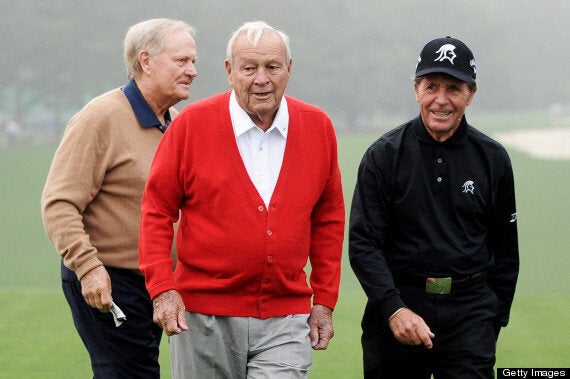 The 83-year-old Palmer also split the fairway, albeit around 50 yards shorter, while Nicklaus, 73, hit marginally the longest drive but pulled it slightly into the pine straw.
With that the trio who used to be known as golf's 'Big Three' - they have 13 Masters titles between them - retired to the clubhouse and allowed the tournament proper to begin.
Conditions were good for the early starters, with no wind and slightly overcast skies, but possible thunderstorms were forecast for later in the day.