Former Sex Pistol Johnny Rotten has come under fire after launching a bizarre sexist rant on Australian TV when the show's female anchor, Carrie Bickmore, asked him about the death of Baroness Thatcher.
Rotten, real name John Lydon, has been branded a "sexist, misogynist pig" by Bickmore's co-host Andrew Rochford, after his appearance on talk show 'The Project' on Channel Ten.
The disgusting tirade started with Rotten saying "missus, shutup", he then told her, "when a man is talking do not interrupt."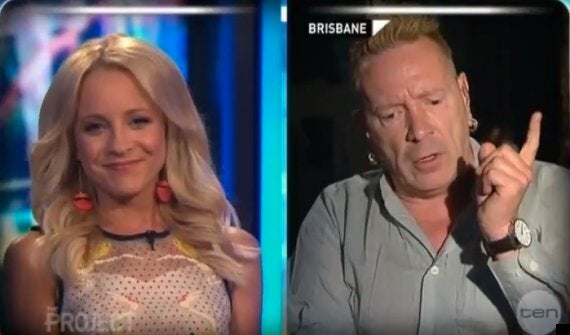 He continued, with his seemingly over-inflated ego, thus: "You're beginning to sound like excited children, you're talking to a proper master of the universe here."
Rotten is currently touring the country with his band Public Image Limited.
However, he has hit back at claims he's sexist."It's quite clear to me I'm not a sexist and I'm not a misogynist."
He said that if someone interrupts, "you are going to have to say something at some point, whether it be male or female", The Independent reports.
Bickmore stayed calm during the interview, but wrote on Twitter afterwards:
Throughout his near-40 years in show business, Rotten has provided a raft of memorable TV moments, staying true to the punk philosophy of rabble-rousing, anarchy and generally upsetting the establishment.
Here are some more of his famous TV turns...