Eden Hazard was only 21 when he embarked on his Twitter transfer tease last year, but so immaturely pre-meditated were the Chelsea attacker's antics he had assisted, appropriately like Craig Burley in the 1996 FA Cup semi-final, an easy chance for the opposition.
"I spoke with Abramovich, he is very simple and loves football. We were on the same wavelength, he wants to confirm Chelsea's position at the top," said Hazard, having announced he would join the "champion's league winner". Chelsea actually ended last season behind Newcastle United and few considered them as Europe's crème de la crème despite the minor-miracle in Munich. Instead Hazard is now chasing Europa League and FA Cup honours, aware the Blues cannot confirm their status "at the top".
For supporters not enriched by foreign owners, Sunday's FA Cup semi-final, despite the guarantee one of Chelsea and Manchester City will be back at Wembley, could be billed as Schadenfreude Sunday. Two clubs who have spent hundreds of millions chasing success have been reduced to fighting it out for a competition which will boast a neutral section for the weekend's first semi-final and neither Rafael Benítez nor Roberto Mancini, for all their vanity, cannot mask how the occasion reflects two teams' underachievement.
That the FA Cup is a vastly inferior spectacle than the League Cup has further sullied the occasion. Supporters deprived of silverware for 18, eight or five years are undeniably jealous, but their clubs are not bankrolled by owners who could swim around their riches like Scrooge McDuck.
Benítez, allowed to dip his toe into the pool to sign Demba Ba, willingly accepted the unenviable task of managing one of the most infamous dressing rooms since Don Revie's Leeds loyalists in November, and has arguably overachieved. But the manner in which Chelsea have tailed off in the Premier League and their dependency on cup competitions reinforces the theory his expertise lies in knockout football. Chelsea were six points adrift of Manchester United prior to his first game in charge compared to the 19 they now trail them by. The target has been downgraded from reclaiming the league to reclaiming a top four berth over the last five months, even though Seńor Interim has overseen Chelsea's passage to two semi-finals. "Keep the mask on," the amorous Chelsea fans pleaded
Stamford Bridge's WWE-style atmosphere, with its poorly choreographed banners and pantomime booing of the "fat Spanish waiter" has subsided since Benítez attacked the club and berated Blues supporters' negativity. Coincidentally, Benítez has since outfoxed Sir Alex Ferguson in the FA Cup not once but twice, and Chelsea fans are more carefree than calculated, with Tottenham even stumbling. Whereas his fact rant derailed Liverpool's title chances in 2009, his tirade at Middlesbrough has surreally galvanised Chelsea, however meagre FA Cup and Europa League wins may be.
Benítez can afford to be relaxed because he will not be Chelsea manager next season, a luxury Roberto Mancini cannot afford. Despite spending £291.75m, twice he has failed to guide City out of the Champions League group stages and this season's defence of their Premier League title is one of the worst in living memory. "You're the worst f*****g champions we've ever seen," taunted Manchester United fans ahead of Monday's derby.
Mancini was also startlingly blinkered in his handling of Mario Balotelli and fluttered his eyelashes at Monaco last year, while his third full season is a mammoth failure even if City regain the FA Cup.
And yet this is the same manager who ended the club's 35-year wait for a major trophy and 44-year championship drought. This was pencilled in as a seminal week for Mancini as soon as City dismissed Barnsley in the quarter-finals, and they were deserved winners at Old Trafford in the second derby of the term. Secretly, they may still hope for so epic a collapse from their city adversaries they would replace Devon Loch as sport's breakdown lexicon, but the chasm is a reflection of City's regression under Mancini. The notorious second album is more Second Coming than What's The Story Morning Glory.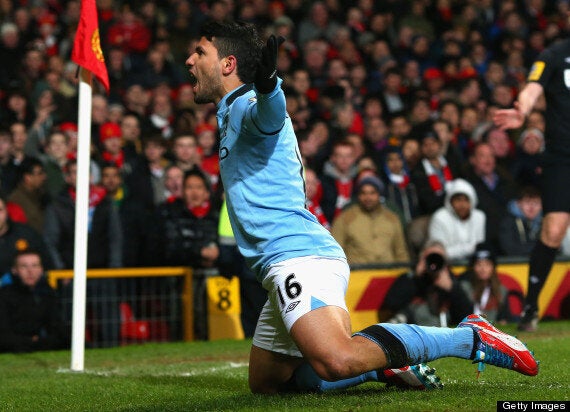 Sergio Agüero celebrates his derby winner at Old Trafford on Monday
When City travelled down to Wembley for the 2011 semi-final with United, it was their first visit to the stadium since their 1999 Division 2 Play-off final win against Gillingham. Excluding the 2001-2006 period that Football Association trophy finals were played at Cardiff's Millennium Stadium, prior to the game United had been to both the old and new Wembleys for six FA Cup finals, five League Cup finals, two FA Cup semi-finals and 11 Community Shield matches. Reds joked how City mates suggested to meet up by the Twin Towers.
Yaya Touré's winner was the catalyst for a new successful City era as Liam Gallagher did the Poznan in the VIP section and Mike Summerbee held back the tears. But two years on, being back at Wembley is tainted by embarrassment due to the domestic and continental form. It is an ambivalent privilege.
Maybe a semi-showpiece occasion feeling frivolous fuels the envy. Although the parallels between City and Chelsea, English football's two money men, extends beyond their failings and into the dressing room. Disharmony lurks in the manager-player relationships at both clubs, and while City may not boast the preening power players at Chelsea, neutrals loathe the supercilious demeanour they suddenly strutted after the Abu Dhabi United Group's 2008 takeover. City fans acknowledge Mark Hughes intensified their unpopularity.
Last year, the FA Cup final was billed by one disgruntled Manchester United fan as "C*** Final Day". The competition has long made a part-timer of neutrals for one day only but Sunday is a quandary for millions up and down the country who are pining their hopes on an unlikely Wigan Athletic triumph in May. Or Millwall.
Some questioned whether Eden Hazard made the right move last year, his unpopularity would suggest he was tailor-made for Chelsea.