Runners are putting their minds and bodies to the ultimate test as they take part in the world's hottest and coldest marathons.
From minus 28°C on the North Pole to the burning Sahara desert, these extreme running conditions are not for the faint hearted.
According to the ITN report featured in the video above, a brave 46 runners took part in this year's North Pole marathon. Some, they say, took up to 10 hours to finish the 26.2 miles course in freezing conditions.
"It's very challenging," says Richard Donovan, race co-ordinator. "There are parts where the ice is quite solid. But at least half the course is tough -- people will be sinking and, in some cases, sinking up to their knees"
The race winner, teacher and international runner Gary Thorton, completed the course in an impressive time of 3:49:29.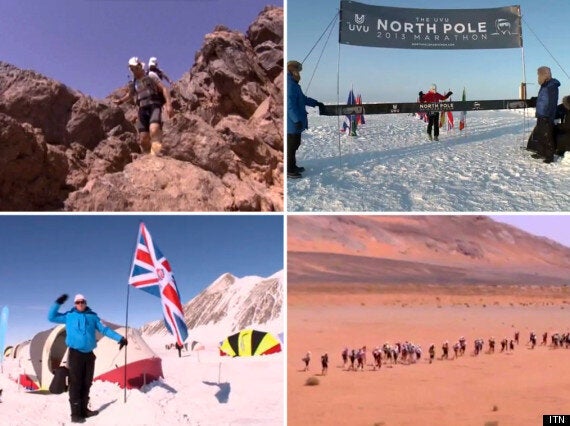 Equally, if not more, challenging is the Marathon des Sables -- an ultramarathon in the gruelling Sahara desert that spans 145 miles and takes six days to complete.
ITN joined runners during the fourth stage of the six-day challenge, a lengthy 75km in baking heat.
According to the video, the fastest can complete the distance in approximately seven hours, while some may take up to 30.
One runner explains that while it's important to eat and drink at the right times and above all, for runners to pace themselves.
"It's going to be a long day," he says.