Reading Football Club has been criticised for advertising an unpaid internship role for post-graduates with sports science degrees.
The job description states the intern will not be repaid travel expenses despite being required to attend all home and away games and having access to a car.
Duties include undertaking "detailed pre-match, post-match and 'during-game' analysis as directed by the Senior Performance Analyst".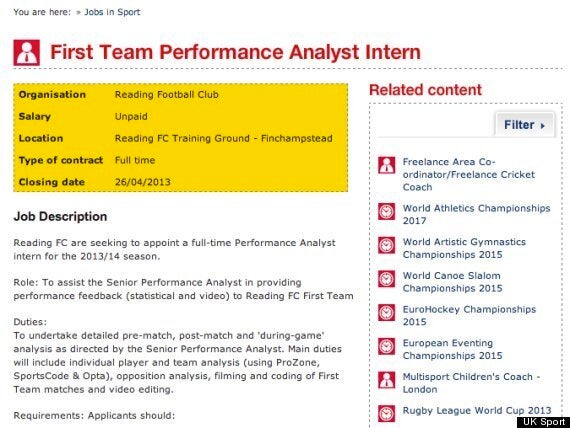 A screengrab of the internship on UK Sport's website
Individual player and team analysis (using ProZone, SportsCode & Opta), opposition analysis, filming and coding of first team matches are also included.
The senior performance analyst role entails providing performance feedback (statistical and video) to Reading's first team.
With Reading destined to be relegated to the Championship next season, the intern would have to cover 46 league games.
Last night a spokesman for the club said: "Internships are an important part of career progression and experience building for any individual starting out on the path to their dream job.
Football is happy to offer such a great opportunity... a number of interns have gone on to become full-time members of staff and remain integral to our club."
UK Sport's decision to advertise the role does not reflect well either, since they are a lottery-funded organisation.
Popular in the Community