The FA Cup final will be an all-Lancashire affair after Manchester City narrowly defeated holders Chelsea 2-1 in Sunday's semi-final.
Goals from Samir Nasri and Sergio Agüero either side of the pause inflicted upon Chelsea their first FA Cup defeat at the new Wembley, despite Demba Ba's dexterous volley.
The 2011 winners will face first-time finalists Wigan Athletic on the penultimate weekend of the English football calendar.
City, despite Mancunian adversaries United stretching their lead back to 15 points, were ebullient in attack against their sluggish opponents. The momentum from their Monday night derby win was evident as they overran Chelsea's midfield duo of John Obi Mikel and Ramires in the opening period. Rafael Benítez, with the riches of Eden Hazard, Juan Mata and Oscar, could have been forgiven for dropping one of the diminutive trio, but left the handbrake off, only Chelsea couldn't get out of first gear. Mikel was too ponderous and despite Ramires's magnificent marauding, the Blues lacked a distributor to allow the front three to effect the game.
Whereas Chelsea looked jet-lagged and weary from their Russian jaunt, City looked as fresh as daisies. Boasting Gareth Barry and James Milner either side of the imperious Yaya Touré, their opponents seemed startled by how relentless City began the match. Petr Čech reacted superbly to deny Sergio Agüero from a corner and sharply denied Carlos Tévez's angled effort inside 11 ominously opening minutes.
Chelsea, galvanised by the combative Ramires, belatedly imposed themselves. André Villas-Boas already emphasised this week how costly it can be to show loyalty to a cup goalkeeper, and Joe Hart's deputy Costel Pantilimon almost gave Chelsea the lead. His feeble punch from a free-kick fell to Hazard, whose lob drifted back towards goal only for Vincent Kompany to spare Pantilimon - and Roberto Mancini's - blushes.
Kompany's inclusion - partnered by the remarkably composed 20-year-old Matija Nastasić's - was destined to prove pivotal in this encounter. City were five points behind United when their captain was injured before the gap ballooned to 15, yet whereas they are heavily dependent on their captain, at Stamford the interim manager chooses not to be. And yet again Terry's absence contributed to Samir Nasri's breakthrough.
Touré bulldozed his way past his opponents to feed Agüero inside the box, and the Argentine played Nasri in. The Frenchman inexplicably tried to return the favour when he should have shot at goal, only the ricochet fell fortuitously into his path and he smacked the ball past the helpless Čech from six yards out.
If Chelsea were slow to start the match they were the fastest out of the tunnel for the re-start. The last time they travelled to Eastern Europe before an FA Cup tie they recovered to outfox Manchester United after a wayward first 45, however their dithering defenders were punished less than two minutes after the pause.
Barry's floated cross from the right-hand side remarkably found Agüero unmarked, and so routine was his headed finish he came close to looping it wide. The Argentine's name was greeted the loudest by City fans prior to kick-off, some who he treated to a game of pool at a Stockport pub midweek. Now he appeared to have snookered Chelsea.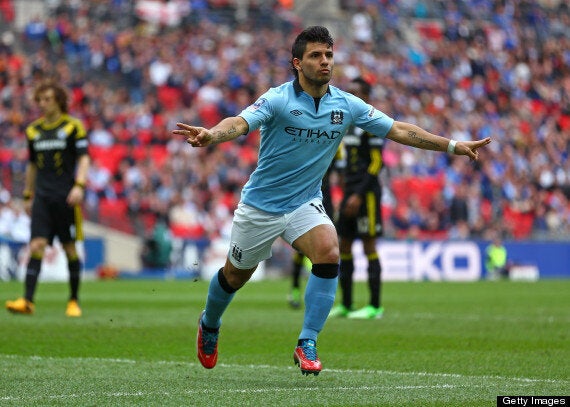 Agüero celebrates his header
Content with their advantage, City became reticent. They seldom threatened on the counter-attack but were blunt. Terry warmed up in front of his adoring supporters but his introduction would have been futile. Demba Ba, starved of service, was anonymous and in need of support. Benítez heralded Torres to finish his warm-up just after the hour mark and the man in the mask arrived for the moribund Mikel. Ten seconds later, Ba arrived as well.
Similarly to his superb volley against United in the quarter-final last week, after Kompany misjudged his header from a long ball, Ba acrobatically hooked the ball over Pantilimon and in off the post.
Suddenly, City looked fatigued. Hazard and Mata dovetailed at tormenting their opponents, with Pantilimon denying Mata as the Spaniard tried to skip round him, as well as Ba, thwarted by a smart point-blank stop. Ramires was now tasked with the one-man gig of anchoring the midfield as the five forwards attempted to engineer an equaliser.
City's frustration could be gauged by Agüero trampling on David Luíz. Referee Chris Hoy took no action, much to Chelsea's chagrin, but the Argentine could feasibly miss his club's next three league matches.
Torres, on the fringes, had a chance in the 83rd minute. Ramires, now bossing Touré, aimed an erudite pass in the number nine's direction, only Torres was unable to trap the ball, which nestled into the grateful arms of Pantilimon. City, susceptible to the lofted passes, almost came unstuck again when Kompany denied Torres, who complained he was being manhandled.
Agüero could have finished the contest but City, aided by Joleon Lescott's arrival, hung on to reach their second final in three seasons. Blue Moon and Hey Jude played out the day for the Citizens, but Benítez can still make it better for Chelsea in the Europa League.