Pierce Brosnan may have taken on some of the world's most vitriolic villains during his tenure as James Bond, but he admits that he can't actually bring himself to watch any of his three 007 films, now he's handed over the baton.
"I'm very uncomfortable with it," he tells HuffPostUK. "My little boy came up to me the other day, he's 12, and he told me, 'Dad, you've got to watch these with me, one day.'
"I promised him I would, but I do have difficulty getting my head around it, being James Bond."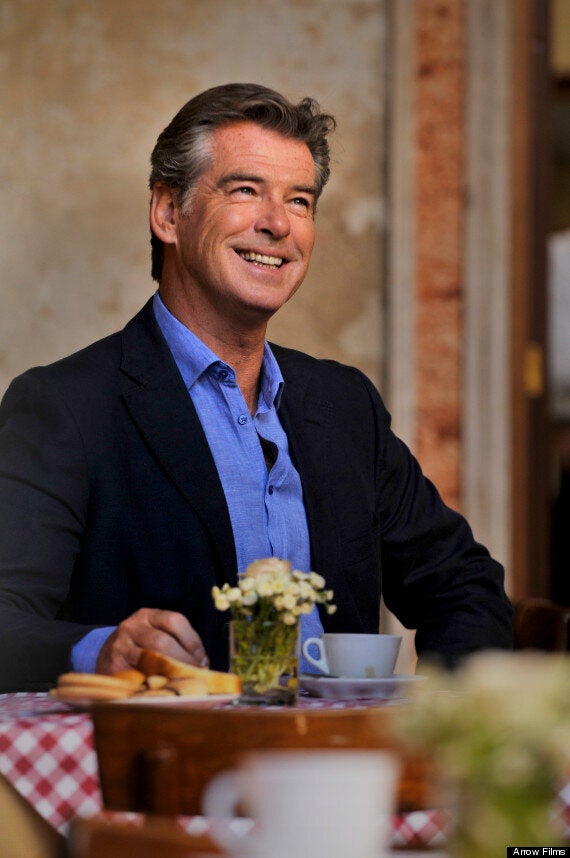 Pierce Brosnan stars as widower businessman Philip in romantic drama, 'Love Is All You Need', out this week
Brosnan, who stars in this week's beautiful romantic drama, 'Love Is All You Need', a Danish co-production set in Sorrento and featuring some familiar Nordic Noir faces, explains, though, that he remains full of gratitude about getting the coveted 007 gig, which he performed through 'GoldenEye', 'Tomorrow Never Dies' and 'The World Is Not Enough'.
"I got away with it, is how I feel, honestly," he says. "I didn't make a pig's ear of it. I stand in good company, there's no other character quite like it. So to be an actor, which is a job I love with every fibre of my being, and then to be James Bond.. well, it's definitely a feather in my cap."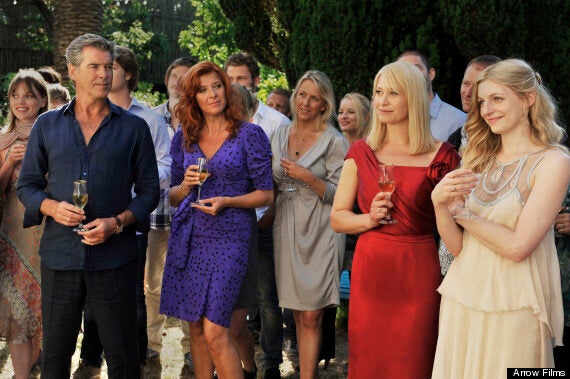 Brosnan stars with Trine Dyrholm (red dress) in 'Love Is All You Need' - A Danish co-production set in Sorrento
Brosnan's time as Bond was famously delayed because the producers of his hit detective TV series Remington Steele wouldn't let him go - this is another role that Brosnan now has trouble with spectating...
"Oh, god, I saw myself on TV the other day, running around with this big mop of hair." (That's Pierce Brosnan, with personal image issues, just in case you hadn't noticed... what hope the rest of us?)
READ THE FULL INTERVIEW WITH PIERCE BROSNAN TOMORROW AT HUFFINGTON POST UK
Despite his reticence about his own time as Bond, Brosnan has no such reservations about Daniel Craig or the latest Bond-buster 'Skyfall'.
"It was fabulous," he exclaims. "Particularly as the weight of expectation was extraordinary, but they got away with it."
Brosnan is psyching himself up to film his own spy thriller, November Man, in the next few months... "There's another room for another one. Daniel can't have it all. I'm just going to creep on stage and have my own little shenanigans."
That should be enough to keep Mr Craig on his toes.
'Love Is All You Need' is in UK cinemas from Friday 19 April. Watch the trailer below...