A police horse attacked when football fans clashed following a Tyne-Wear derby is back home in his paddock safe and well, officers said on Monday.
Bud, of West Yorkshire Police's mounted section, was controlling crowds at the Newcastle versus Sunderland match on Sunday when a fan apparently tried to punch him.
A total of 29 supporters have now been arrested after sporadic violence spread across Newcastle city centre.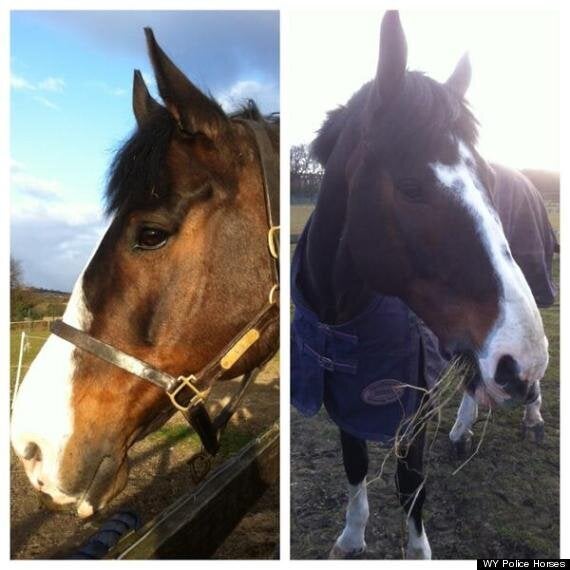 Bud has received a lot of attention since yesterday
Video footage of the skirmishes showed crowds picking up empty glass bottles and throwing them towards police.
Pictures and video also emerged of a man apparently swinging at the police horse.
However, Bud's suspected attacker was wrestled to the ground by officers and Northumbria Police said on Monday he has been bailed pending further inquiries.
Three police officers were also injured during clashes with Newcastle fans after the side's 0-3 defeat at St James' Park.
West Yorkshire Police Horses Twitter account tweeted a picture Bud, saying he was not injured during the scuffle and is now back home in West Yorkshire.
West Yorkshire Police Horses said: "Bud is safe in his stable and appears fine.
"All our horses are fit and well, resting and relaxed."
It showed photos of Bud in his paddock on Monday morning and thanked people for their concern, many of whom had asked how he was via the networking site.
Yesterday Chief Superintendent Steve Neill, of Northumbria Police, said: "The vast majority of fans were well behaved today and enjoyed the Tyne-Wear derby for the great occasion that it is.
"Disappointingly, there was some disorder involving what appear to be Newcastle United supporters following the match in the city centre, including an incident at Central Station.
"Disruptive behaviour of any kind is not tolerated. Inquiries will take place into these incidents and action will be taken against all those involved."
West Yorkshire Police has 18 horses in its mounted section, which it uses to police football matches up and down the country and for ceremonial occasions, according to the force's website.
Chief Superintendent Neill asked people who filmed fighting on their mobile phones to hand footage over to police or Crimestoppers.
Speaking on Radio 5 Live, he said: "It's important we deal with these individuals and put them before the courts."