Australian entertainer Rolf Harris has been a household name for more than half a century.
Millions of young people grew up to the sounds of his inimitable wobble board, didgeridoo and quirky singing style, while his catchphrase "Can you tell what is it yet?" became synonymous with his sketches that only became clear in the final strokes of his marker pen.
Harris's global popularity helped him rack up Top 10 hits across three continents and present an array of television shows around the world.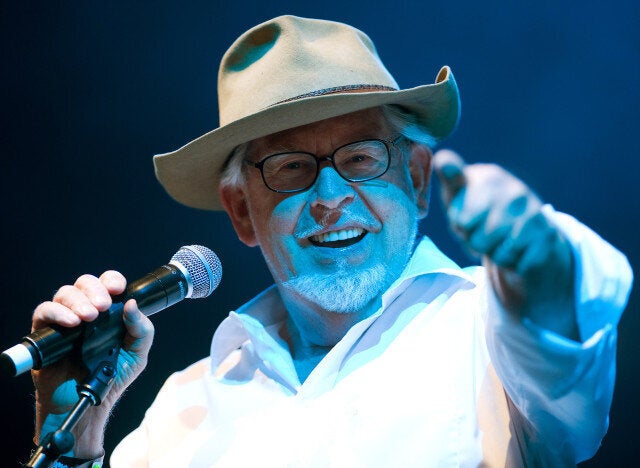 Harris was awarded an MBE in 1968, an OBE in 1977 and a CBE in 2006
The pinnacle of his career as an artist came in 2005 when he was commissioned to paint an official portrait of the Queen to mark her 80th birthday.
Born in 1930 in Perth, Western Australia, Harris excelled as an athlete, winning national and state swimming championships in his teenage years.
But it was his passion for art that led him to board a boat at the age of 21 and head to the UK in pursuit of his dream of becoming an artist.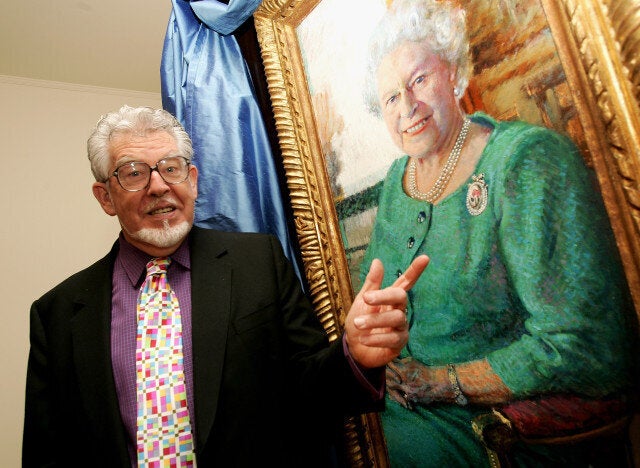 The pinnacle of Harris' career was painting the Queen
In London - which Harris described as "the hub of the universe" - the Australian joined an art school, but after two years he dropped out and instead started drawing on children's television programmes.
He married his wife, Alwen, in 1958, and after a brief return to Australian television the couple travelled back to England, where Harris ploughed on with his successful career in television and music.
His first hit, Tie Me Kangaroo Down, Sport, was released in 1960 and reached Number One in the Australian singles chart, Number Three in the US and Number Nine in the UK.
With 30 studio albums, 48 singles, two live albums and four compilation records, Harris's musical output spanned six decades.
In 1961, Sun Arise reached number tThree in the UK, but his biggest triumph was Two Little Boys in 1969, which charted at Number One in the UK and Ireland, and number seven in his home country.
Harris has been on our screens presenting art and reality television shows for children and adults since the 1950s.
He made his name on programmes like the BBC's Whirligig and Hi There And Hey Presto It's Rolf, and his big television break came in 1967 when he began hosting his own BBC1 programme, The Rolf Harris Show, which was broadcast to 1974.
He presented Rolf Harris's Cartoon Time on BBC1 in the 1980s and Rolf's Cartoon Club on ITV between 1989-1993 before turning his attention to Animal Hospital, which he hosted from 1994 to 2004.
Harris, who has lived in Bray, Berkshire for more than 50 years, was awarded an MBE in 1968, an OBE in 1977 and a CBE in 2006.
He was made a Fellow of Bafta ( British Academy of Film and Television Arts) last year.