An Indian dentist who was refused a termination in an Irish hospital as she miscarried died as a result of medical misadventure, a jury at her inquest has today unanimously ruled.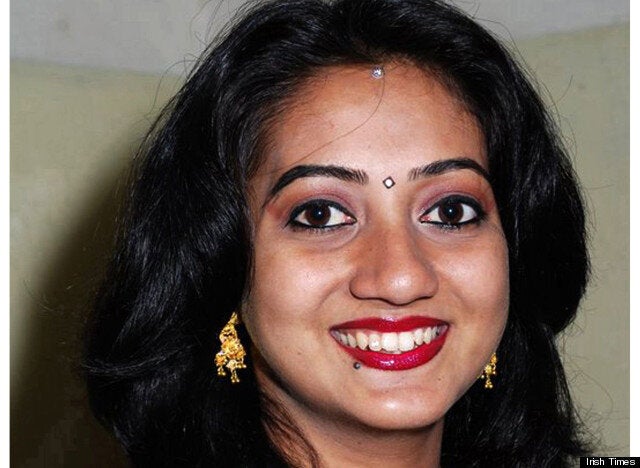 Savita died after being refused an abortion
Savita Halappanavar was 17 weeks pregnant when admitted to University Hospital Galway on October 21 last year with an inevitable miscarriage.
She died a week later after suffering a septic blood infection. Savita's husband at the inquest on Friday
A jury at her inquest in Galway courthouse also accepted nine recommendations put forward by coroner Dr Ciaran MacLoughlin.
The medical misadventure ruling found that there were systemic failures or deficiencies in the care given to Mrs Halappanavar before she died.
Widower Praveen Halappanavar should have been celebrating his fifth wedding anniversary with his wife on Friday.
He was given a health service internal review of his wife's death on March 30, the day their baby Prasa had been due.
The jury deliberated for about three hours.
:: The Medical Council should say exactly when a doctor can intervene to save the life of a mother, which will remove doubt or fear from the doctor and also reassure the public;
:: Blood samples are properly followed up;
:: Protocol in the management of sepsis and guidelines introduced for all medical personal;
:: Proper communication between staff with dedicated handover set aside on change of shift;
:: Protocol for dealing with sepsis to be written by microbiology departments;
:: Modified early warning score charts to be adopted by all staff;
:: Early and effective communication with patients and their relatives when they are being cared for in hospital to ensure treatment plan is understood;
:: Medical notes and nursing notes to be kept separately;
:: No additions or amendments to be made to the medical notes of the dead person who is the subject of an inquiry.