Tottenham Hotspur came from behind to defeat Manchester City 3-1 and offer supporters fresh hope of a top four finish in the Barclays Premier League.
Collapses, not comebacks, are usually becoming of Tottenham, but in the spring sunshine they put a spring back into their supporters' steps thanks to goals from Clint Dempsey, Jermain Defoe and Gareth Bale in a seven-minute, three-goal spurt to cancel out Samir Nasri's early opener.
City's defeat now means if Manchester United beat Aston Villa on Monday night they will become champions for a 20th time.
Nasri, who produced an outstanding performance at White Hart Lane for Arsenal in the League Cup two seasons ago and on his City debut last season, opened the scoring after just five minutes when Scott Parker, shadowing Carlos Tévez, was caught ball-watching and the Argentine released James Milner to cross for the grateful Frenchman.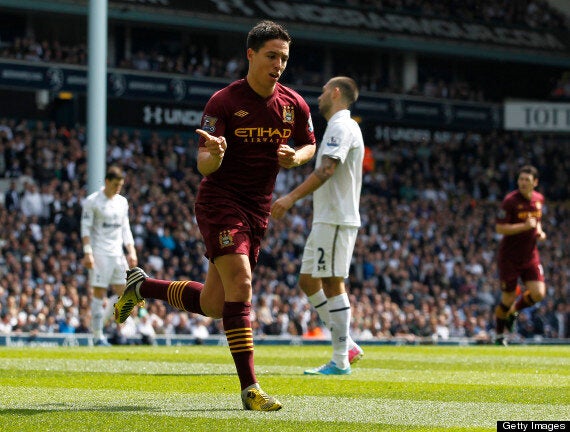 Nasri opened the scoring in a dominant first 45 for City
Hugo Lloris produced fine saves from Edin Džeko and Tévez after Kyle Walker had spurned an opportunity to equalise thanks to a moment's hesitation in an otherwise dominant first 45 for City.
Spurs were still lacking belief on and off the pitch until the hour mark. André Villas-Boas introduced Tom Huddlestone and Lewis Holtby for the poor Parker and ineffectual Gylfi Sigurdsson while 10 minutes later Defoe arrived for the cumbersome Emmanuel Adebayor. Suddenly Tottenham were galvanised.
Bale, hitherto struggling in his first game for over a fortnight, produced a wonderful cross with the outside of his left boot and the dogged Dempsey slid in to equalise on 75 minutes.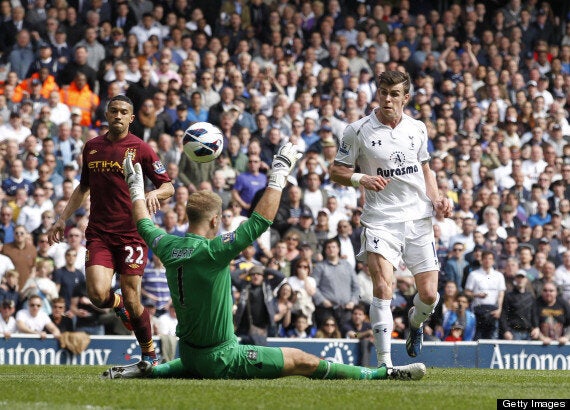 Bale added gloss to a great day for Spurs with the third goal
Momentum now firmly with the Lilywhites, they capitalised just four minutes later when Defoe was allowed to enter the penalty area with alarming ease by Vincent Kompany and smashed the ball into Joe Hart's bottom left-hand corner.
It then got better when Bale, now pivotal rather than peripheral, was found by Huddlestone and delicately dinked the ball over the crestfallen Hart in the 82nd minute.